Peace On Earth Afghan
I finished this about a week late but I thought it was still appropriate for a New Year's wish as well as a Christmas sentiment.
I'm calling it my Peace On Earth Afghan. (Please click on the photos to enlarge them).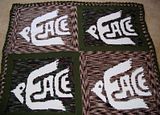 It's about 72 inches by 76 inches. I had to stand on the couch arms to try and fit it all in the shot.
(Sorry about the messy rug. We just moved out my Mother-in-laws things and this room is now empty except for a beat-up couch and we haven't had any time to get the carpet cleaned or anything).
I made four squares. (Two in Bernat's Camouflage Outback yarn and White I Love This Yarn, and two in Bernat's Camouflage Renegade yarn with Antique White I Love This Yarn). Dark Thyme Green TLC Essentials yarn.
The squares were tunisian, (afghan) stitched using a size J cabled afghan hook.
Once they were done I single crocheted around the squares with a J hook about 12 times each.
Then I joined the squares from the back with a running chain stitch. (I'll post the back in a minute).
Then went around the whole afghan with a basketweave stitch - 3 rows of Outback and 3 rows of Dark Thyme Green).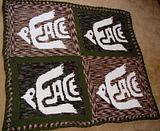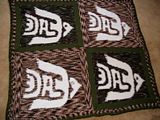 Here's a shot of the front next to a shot of the back. You can see the joining seams, (done with Outback).
I got the idea for the peace dove from this
dimestoreemporium etsy shop
where they are selling pendants with this dove on them.
I wanted to use earthy colors and I had a lot of Camouflage yarn in my stash so it worked out perfect.
So, here's to Peace on Earth in the coming year 2010!
I hope all who are reading this have a peaceful year and the white dove finally does come home to sleep in the sand of wherever you live!!