Hemmingway's Cat by Picasso afghan crocheted
My latest project combines several different topics, artists, and mediums to achieve one of my all-time favorite afghans.
First off, here's the afghan... (Click on the photos to enlarge them)...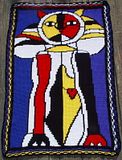 Ok, so, here's the story on the Picasso cat sculpture...
Ernest Hemingway visited the rue des Grands-Augustins,(Picasso's home), however, Picasso was out. The concierge, used to everybody's leaving presents, asked if he had a gift to leave for Monsieur. Hemingway went back to his car and returned with a case of hand grenades, on which he wrote, "To Picasso from Hemingway."
Well, apparently as a returned favor for that seemingly spur-of-the-moment gift, Picasso created this quirky ceramic 3-dimentional cat sculpture. Here is a photo of the original sculpture with a brief story on what happened to the it in the frame along with the sculpture, (and here is the replica by artist Bob Orlin which is currently on the mantle in the Hemmingway house in Florida. (Both of these photos are in ssallykat's flickr photos account. She went to visit the Hemmingway House which is a museum now.) You can enlarge ssallykat's photos to read the story in the frame.
Can you imagine having a Picasso art piece stashed away in your basement??! Sure, it was in pieces but wouldn't you try to get it restored??? Well, thankfully someone finally did do that.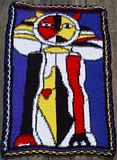 This is a photo of the back of my afghan.
So, I haven't finished my story about how the afghan was made.
I loved the sculpture but it was still too difficult to make into a graph form in order to crochet it. So, I googled around and discovered a really talented lady named Judy. She makes and sells stained glass artwork as seen here on her website Stained Glass by Judy (I don't know her last name but if I find it I'll post it here).Here is her planned project of Picasso's cat she designed for a stained glass piece. I don't know if she ever did complete it but I hope she did because it's a wonderful rendition!
Anyway, so that's the photo I used to graph and create my afghan. I used a size J flexible afghan hook. I Love This Yarn and Red Heart yarns. The afghan is small. Like a crib size. 32 inches wide by 47 inches high.
I used Mondrian colors of blue, red, yellow, white and black. (You know how I love Mondrian!)
I changed the paws to look more like the sculpture. I'm sure Judy simplified them for easier stained glass work but since I don't have that problem I just added them back into the piece.I love how Judy's version with the stained glass look really made the piece pop out for me with the black outlining all the colors.
So, to sum things up, this project started with a Hemmingway whim, to a reciprocal gift by Picasso in ceramic form, to destruction by a true cat burglar, to a restoration by Orlin, to an interpretation of that restoration by Judy, in stained glass form, to a crocheted afghan in yarn by me done in colors reminiscent of Piet Mondrian and his cubist style.
YAY!
I love Art!