Harry Potter Dolls
Well, I've decided to put my Potter dolls in here because I can no longer find the post at Crochetville anymore.
I made a Professor Flitwick. He reminds me of a garden gnome.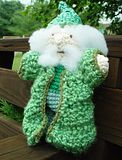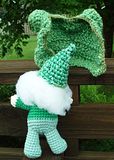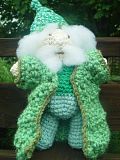 (Again, click on the picture for a larger view).
He is about a head shorter than the Harry doll.
I didn't get a group picture. It's harder and harder to drag out all the dolls for a group shot!
I am a bit depressed now about the way things are going in the latest book.
I'll say no more on that.
But, I am attempting to make a castle "doll house" for the Potter dolls from this Enchanted Castle White Christmas thread pattern. (Thanks Fran, ).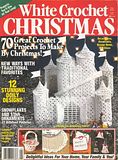 I'm having to make it larger to attempt to accomadate the dolls. (It will never be a true-to-scale castle compared to the dolls. That would mean it would have to be absolutely HUGE! But I'm trying to make it large enough for the dolls to fit in the doorways of the gate and the towers. I have two walls done so far.
I'm using that Quick and Thick Denim Aunt Lydia's 8 ply thread. (Olive color). I'm trying to think of ways in which the castle will be supported. I know that spray starch will not be enough to keep it up. The walls appear to be supported by the four corner towers. So I was thinking that what I could use is those thick cardboard tubes used for mailing things like posters, plans, etc. Putting them in the towers and cutting "doorways" in them. Do you-all think this will work? Or do you have a better suggestion?
ANYWAY, I hope you all enjoy Professor Flitwick. He's cute!
--------------------------------------------------------------------------
I finished Harry. I had to get him done and make this post before Friday!
(You all know I will be "missing-in-action" after Friday until I finish the new Harry Potter book! )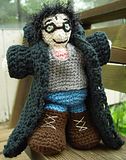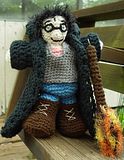 So here he is, (Allow me to pre-empt your soon-to-come comments about his likeness being similar to that of Woody Allen or Bart Simpson's friend Milhouse . It was not intentional and I can't change the fact that the most noticeable and memorable feature about Harry is those big round glasses.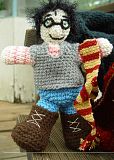 (And his all-important scar, of course!)).
I made him a school vest and a black cape with a hood,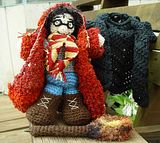 Here he is with his Firebolt, (is that the name of his current broom? I can't remember ) anyway, yes, it's a pen too!
I used redwaterlily's Yellow Yarn Whooper pattern for the handle, stuck a pen inside, and finished the end with yellow yarn- not in tails but like a tuft shape. It looked like an ear of corn stuck onto a stick! So I then added cha cha yarn up and down the whisk area to try and create a more "broom-like" look.
It really writes and all! I was thinking, you could really put anything on top of the end once you made the handle and stuck a pen into it. I'll have to think about that for another project down the road.
Yes, I had to make him a scarf too! I used the Harry Potter Bookmark at http://www.jimsyldesign.com/~crochet/bmarkhp.html
only I had to make it about three times longer to fit around the doll.
And, yes, I had to make him a quidditch robe too. (That's why he's wearing boots also, but they do come off too). His hair was made from that "fluffy" fur yarn I used for Hagrid. Only it wasn't spikey enough so I got some black fun fur to trim around his face with. Believe it or not, I had to actually give him a couple hair cuts as the fun fur was a bit too "fun". It's supposed to be all wiley and unruly as is described in the books.
It began to rain because we are finally getting whatever was left from hurricane Dennis, so I had to run in and couldn't a group shot of the whole gang. Sorry about that.
Now for that new book! Bring it on!!!
-----------------------------------------------------------------------
Finished Hagrid!
It took me a bit longer. I had to crochet his beard and hair because I couldn't find anything I liked.
Please click on the pics for larger views.
Entire outfit front. (I also made a pink umbrella. It's so bright out there is a glare from it.)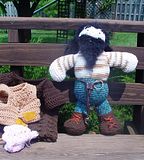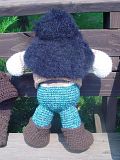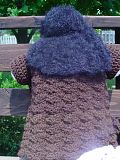 Entire outfit from the back. I used a shell stitch to try and make his coat look sorta "lumpy". His hair is so soft. The yarn was called Fur and it was perfect for him.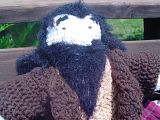 Things off front. His vest and coat come off. (As do his boots but I didn't remove those.) Can you see the clip attached to the umbrella? It's actually a chapstick holder! The handle of the umbrella fits into the sheath made for chapstick. (It's inside the umbrella so you can't see it.) This way you can clip his umbrella to his key ring in his belt.
Close-up face. close-up face. I tried to show his smile. It's really there! LOL!! It was so bright out you can't even see his big round nose either.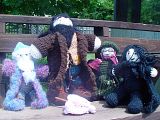 Group photo. Here they are all together so you get an idea on the size of Hagrid.
Here's one more group picture with a bit less glare as I switched Dumbledore with Snape.
Well, there's only a couple more weeks left until the book.
I think I might be able to squeeze in one more doll until then.
(I've got to keep busy as this suspense is KILLING me! LOL!!!!)
I suppose I'll try to do a Harry doll. After all. It's really all about him, isn't it?
______________________________________________________________
I finished the Dumbledore doll.
I didn't think it was possible to love any of the dolls more than the Snape doll, but I did it this time.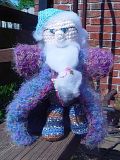 (Please click on the pick for a larger view.)
I tried to make him look like the new Dumbledore, but, to me, he turned out to look just like the first one, (Richard Harris). His robes are so soft and cuddly.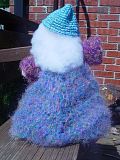 I put a sun charm in his beard sort of like like the new Dumbledore wears. His deepest desire in the mirror of Erised was to have a nice pair of wool socks, so I wanted to give him those socks, I used that striped sock yarn.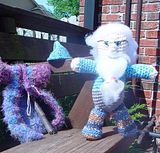 ANYWAY, now that you all know how weird I am; here's the whole trio.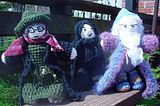 and also, for fun, I made Snape a nice pair of fluffy bunny slippers.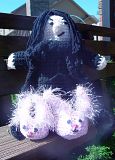 I agree that it would be nice to make a real, life-sized robe like the one I designed for McGonnagal as one of you suggested. I wonder how much black yarn that would take?
And also, my sister suggested a Hagrid doll as well as someone else here so I am working on that right now. But I don't think I will be able to top this Dumbledore. He's definately my fave now!
______________________________________________________________
I finished a Professor McGonnagal doll so I wanted to add her pics here with the Snape ones.
I tried and tried to make a pointy black hat but it wasn't working out. So I decided to put her in the outfit she wears when she goes into town. Here's a picture of her. (As always click on to the pictures for a larger view).
So here's the doll. The robe comes off. I used a bead-toggle to close the robes.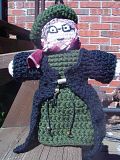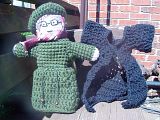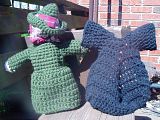 Hat's off too.
And not to be weird or anything; I wanted to show her leggings which I used Christmas peaches and Cream to try and make it look plaid. (She wears a LOT of plaid LOL!!)
Well, I think I'm going to do Dumbledore next.
------------------------------------------------------------------------
It rained and rained all weekend so, naturally, I had to keep busy.
I had showed my Marvin doll to some Alan Rickman fans, (he does the voice of Marvin in the Hitchhiker movie), and one gal wanted me to do a Professor Snape doll too. (Alan Rickman also plays Professor Snape in the Harry Potter movies).
I love a challenge!
So, after a long rainy weekend, here he is. Professor Snape...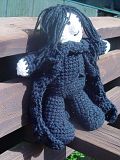 The cloak can be removed just by taking his arms out. I sewed on lines to make it appear that he has a vest and pants on. The sunshine makes his face too glaring and it is difficult to see his rather large nose.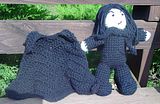 It was difficult to sew on a smirk but I think I did it pretty good!
(I made his scarf black and not a Slytherin scarf because in the first movie, he wears an all black scarf to a quidditch game).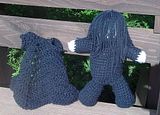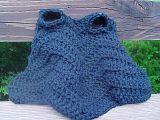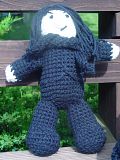 I had so much fun doing this, I think I might try a Harry Potter and a Dumbledore too!!!!!