Hogwart's Castle Update
All images are clickable to enlarge.
I've made four of these "sleeves" which will slide over the plastic canvas to create the towers.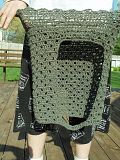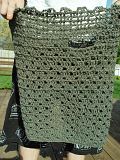 Here's the back which has an upper window.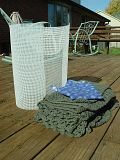 This shows the stack of towers and walls I crocheted plus one of the plastic canvases I cut out to fit the insides.
This shows a tower after I sewed it onto the grid.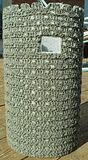 Here's the back to show the window.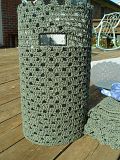 Next I filled in the exposed white grid with black yarn. (One pound Caron). (I wasn't totally finished with this one but it was such a nice sunny day so I wanted to get the pics taken today.
Filling in the white areas in between the crochet really made the crochet stand out and make it look like stone bricks.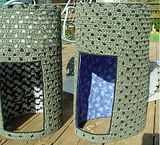 Next I added a starry fabric to the inside to cover up the stitching and make it look nice.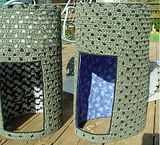 This shows one tower before the fabric and one after.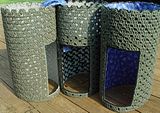 Here's three towers, each in a different stage of developement.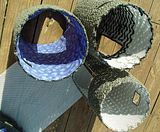 Here's and over-the-top view of the three.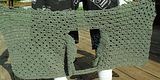 This will be the front gate wall. The other three walls don't have gates. I will add more plastic canvas to make them sturdy and fill in the white parts with the black yarn as with the towers. I'm not sure just how I will do the gate doors yet.
Also, I need to make cone shaped roofs for the towers.
As I posted earlier, I ran out of the olive-colored thread and so, for the middle towers, I have ordered a different color. Linen Marl. It is a linen color with brown flecks in it. I will use a brown yarn to fill in the white grid ares between the crocheted "bricks" this time.