Snape Lap-ghan
Well, after having my computer crash a couple of weeks ago; and then having to find all my passwords and links and files all over again; I'm finally ready to post again!
I made this Snape lap-ghan using a stencil that Melissa had made and posted at the Harry Potter Crafts site which there is a link for somewhere in the lower right side of this blog.
Here's the photos of the afghan...(all images are clickable for enlargement).....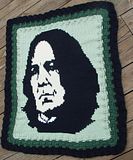 Here's the back for those who are interested in how it was made.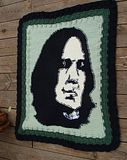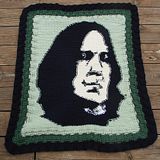 I made a graph of the stencil at the knitpro site again. I used the tunisian stitch. I decided to border it using the basketweave stitch. It worked really well I thought. It stopped the curling right away. About the second row around. I really like this one. I needed to add a small white dash in his eyes so they looked right.
I'm so glad Melissa is generous with her talents in sharing her stencils with the group.
Thanks, Melissa!!!!!
She does fabulous work!
edit:
Well, FoxFire11, I uploaded the pattern to my photobucket. Hopefully this will work...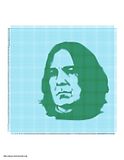 Click on the photo and click on it again to enlarge. Hope it's big enough for you to see!
Good luck!