Autism Awareness Puzzle Piece Poncho
I finished my Autism Awareness Puzzle Piece Poncho and got my son to take a few pictures of me wearing it on today's sunny day. (Please click on the photos to enlarge them).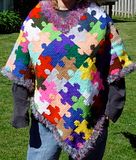 There really is no front or back side. It can be worn either way facing front.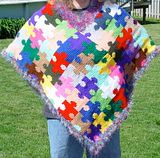 Here's with my hands on my hips. I wanted to spread it out so you can see the whole thing clearly.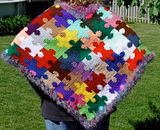 Here's the "back" with my hands still on my hips. I wish I had had one taken from the back with my arms down but I didn't think of it at the time. It looks like I need to twist it just slightly over a bit around my body too so that it would be perfectly symmetrical. Oh well. I can never seem to get a perfect picture no matter what! LOL!
It is made in two panels and then joined end-to-side and end-to-side. It was tricky to try and make sure as I was crocheting it, that two of the same colored puzzle pieces weren't right next to each other. AND to make sure that, where the panels are joined, I had the same color of the puzzle match up with it's other panel's color too.
It's tunisian crocheted using a size J cabled afghan hook.
I drew out the puzzle pieces on graph paper myself. It's a simple repeating pattern.
The best part of this project is that, once again, I was able to use up my tons of left-over yarn bits to make it. I made sure that if I didn't think I had enough for a whole puzzle piece, I wouldn't use it. I didn't want to get stuck not having enough of the right color. (If you'll notice, on the ends I was able to use smaller bits of colored yarn I had that were only needed for the round "head" of the puzzle).
After joining, I needed to trim the edges to stop curling and to make the poncho fit nice and snug around my neck.
So I used some really soft yarns I had. I combined Moda Dea Chichi yarn with Fun Fur. It worked great.
It's really soft right where you want it to be most. Around the neck and where the arms stick out.
The "symbol" which represents Autism is usually a piece, (or several pieces) of a puzzle.
The following is a brief definition of Autism from
quickoverview.com
.
Autism is a neurological disorder, which affects three main developmental areas: social interaction, communication and imaginative play. It is called a spectrum disorder, which means that the effects from it can range along a spectrum, from severely affected to a very highly functioning person who might only be described as quirky. No two people with autism are the same, so remember to never generalize, such as 'People with autism don't speak or like to be around people', because that simply isn't true in many cases. Some of the friendliest, most personable and charming kids you'd ever want to meet are on the spectrum. They are all different with a few common traits, that is the key.
Currently, one in every 150 children in the United States are diagnosed with Autism. (Source,
T.A.C.A.
).
This Autism Awareness Puzzle Piece Poncho would surely grab anyone's attention. LOL!
edit:
I'm adding the graph I made because a lot of you were asking for it. (Click on it!)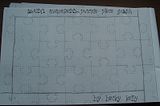 Each puzzle piece is 13 squares across, (minus the "heads". If you keep that number in mind you won't mess up.
The outlined area is what I used for the poncho. (But the third row is really a repeat of the first row).
All you really need to remember is two squares across and two squares up.
(But it does help to draw out more of it to visualize it in your mind better).
I'd love to see the things you all make with it!