Cancer Square - In Honor of Captain Phil Harris
I've taken a long break from here, haven't I?
Well, that doesn't mean I've stopped crafting things. It's just that it's been crazy around here.
Anyway, if you're a fan of Deadliest Catch, then like me, I'm sure you've been mourning the loss of Captain Phil Harris from the Cornelia Marie crab fishing boat. Now I don't usually get all wrapped up in reality shows. But this one has really gotten to me in a deep and personal level.
It's been gut-wrenching to watch these last few episodes. And yet I can't look away.
Captain Phil has had to deal with so many issues, some totally blind-siding him, and as a viewer I feel I can relate to some of the terrible issues he had facing him right until the end.
This months zodiac square was Cancer, the sign of the crab. And as I watched Deadliest Catch I worked on this square. I watched the whole thing unfold. I cried for Phil. For his youngest son - admitting he was an addict. For all the pain they were going through. I felt it too.
I couldn't help but think of my own son. Our own turmoil. It's been hell, it really has.
And so, I'm dedicating this square, this Cancer square, to Phil Harris and to all the people who are going through similar things right now in their own lives.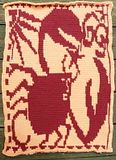 I'm sorry that this post is not a happy post.
And I am once again bawling and can't keep my eyes dry.
I am barely hanging on myself.
I am ending this post with one of my favorite Indigo Girls songs.
Love Will Come To You
It makes mention of being born under the sign of Cancer.
It is a beautiful song and I'm glad someone used it as a background for their montage of friends so I could post it here for you to listen to.