Hogwarts Finished
I was sad to have to put the final touch on to the castle, (for this was Dumbledore's portrait inside his office), as it meant that I had to accept the ending of the Half-Blood Prince book.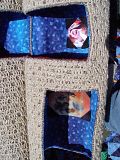 That's it on the top floor.
I am still re-reading H-B P with my youngest (his first time), and we are just past ol' Sluggy's memory so it won't be too long now and he will be able to see the finished castle. (It's hiding in my closet until then for sure!)
I took about a million shots of it outside today. It was a beautiful day. I hope I can get the really good ones all in here so you can be able to see the entire thing for yourselves.

Firstly, I wanted to show you the back inner wall of the castle. I did a cross stitch which I thought summed up the whole message of the series and added a quote to the top which Dumbledore had said to Harry in The Chamber of Secrets.


The top says, " "It is our choices, Harry, that show what we truly are, far more than our abilities." And the castle cross-stitch below says; "If you hear a different drummer -- dreamer, take a chance . . . The road you choose to travel means the difference in the dance."
To me, the book is all about choices and how those choices affect everything from who we are to how we shape our future and destiney's. Harry's choices. Voldy's choices. Even Snape's. I thought it would be fine to put the castle stitch inside the castle for, even Firense has a forest in his classroom.
Anyway, on to more pictures.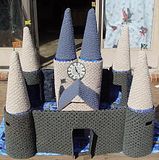 Here's the whole thing. One with the Great Hall roof on, one without.That banner shield in the center is a Hogwarts crest made on perforated plastic.


I made my own clock from perforated plastic sheets.
I used that knitpro site to graph out a gothic clock face and then stitched it on. I did some blackwork stitching in the center. I've never done blackwork before. I really love it and want to do some more things in this stitch some day. (I also did a mermaid portrait for the castle in blackwork as you will see).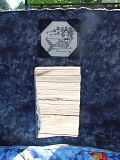 Here she is just over the door which leads outside.
She's so neat! I found the pattern on a stitch site. It's free too. I'll have to find the link and add it to the left margin of pattern links for you.
I put the castle on this quilt I made a couple of years ago before I had this blog. I think they look nice together as they use some of the same fabrics.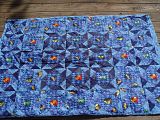 I had gotten pre-cut fabric pieces from a lady on e-bay with instructions on how to sew it together. I learned that I am a terrible sewer. My sewing machine stinks. And I had to do most of it by hand like the castle anyway.
The darker center ones were the squares done with the e-bayers fabric. Then I had to make my own to make a bigger sized blanket. I put golden star buttons in the corners where each square meets. I'm not sure any of that shows up in these photos.
On with the castle already!!!!!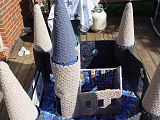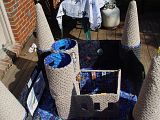 Have you noticed the banners atop eace domed roof? They are alo cross-stitched on perforated plastic. One for each House and one in the middle which is an H for Hogwarts.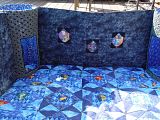 Some chocolate Frog cards which make great moving portraits as they are 3-dimentional cards.
My favorite is that guy with the squid on his head. Barnabus the Barmy. :o)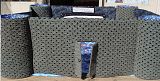 The outer door handles are black metal grommets from my snow boots which my dog chewed off. How helpful of her. They look great on the doors.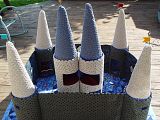 Here's it from the back with Dumbledore's office facing us.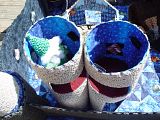 I put Flitwick inside and then Dumbledore too so you could see the size of the office/bedroom. I told you it wouldn't be to scale with the dolls as that would just have been way too big for me to make. But they can still fit inside and be played with.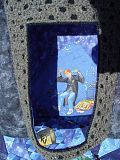 Each corner tower has a person inside on the fabric I chose. This is Ron with the Cornish Pixies.
Hermione with the pixies. (It was the Pesky Pixie fabric. What can I say? I LOVE it!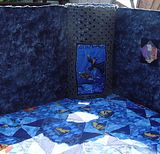 Harry with pixies.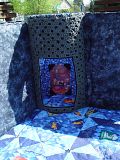 And this is a 3-dimentional card larger than the chocolate frog sards, with Harry and Snape in the Potion's class. I think I mentioned these before. I tried really hard to get good enough photos of them for you this time.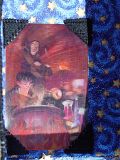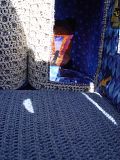 Harry is looking in the mirror of erised here. Quirrel is standing next to him but I didn't get it in the photo.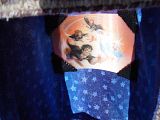 The flying Keys scene is in one of the lower rooms below Dumbledore's office.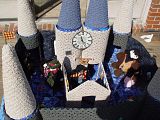 I started to put some dolls inside so you could see them all together. I'll stop blabbing and just bombard you with photos instead...
If there are repeats I apologize.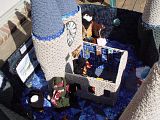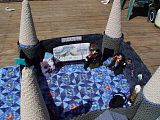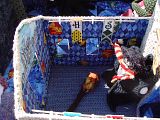 Oh! I forgot to tell you. I made house banners for inside the Great Hall too. Same perforated plastic with felt glued to backs.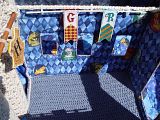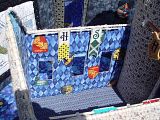 They are hung on wooden dowel rods attached to plastic clips used for attaching Christmas lights to your house. (They were on clearance. I got a ton of them all in one box for pennies. Woohoo!)
This is a weird angled shot which shows you the banners and also the back of the clock too. I did use a real clock gizmo but since my face was floppy, and very thin, and my hands weren't sized right, and the battery made it too heavy, I gutted the whole thing and just kept the things needed to keep the hands on. (I sewed them to the face because they were too loose and would swing about if not sewn on. I was kind of bummed out that I couldn't make the clock work. That would have been really cool. Oh well.
Are you tired af seeing all the photos? I have a million more. Really I do.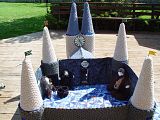 I took out the center castle and put it on the outside of the castle gates.
This would be the best way to play. Then a couple kids could be inside the center with the dolls and still have access to the center castle too.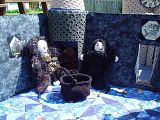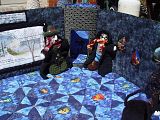 My dog thinks she is being sneaky but I see her.


The plastic canvas is very flexible. It all kind of folds up like this. This is how I carried it down. Thank goodness or I never would be able to get it out of the closet!

Well, that's about it. I'm pooped!