Baby Afghan Animals Filet Crochet Number Three
YAY! I finished at last!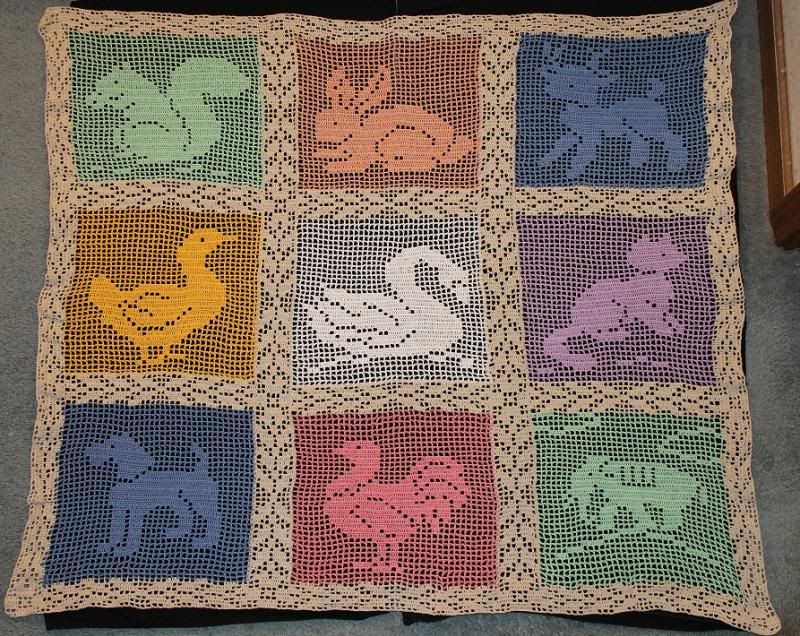 This is a filet crocheted afghan using an Elizabeth Hiddleson pattern.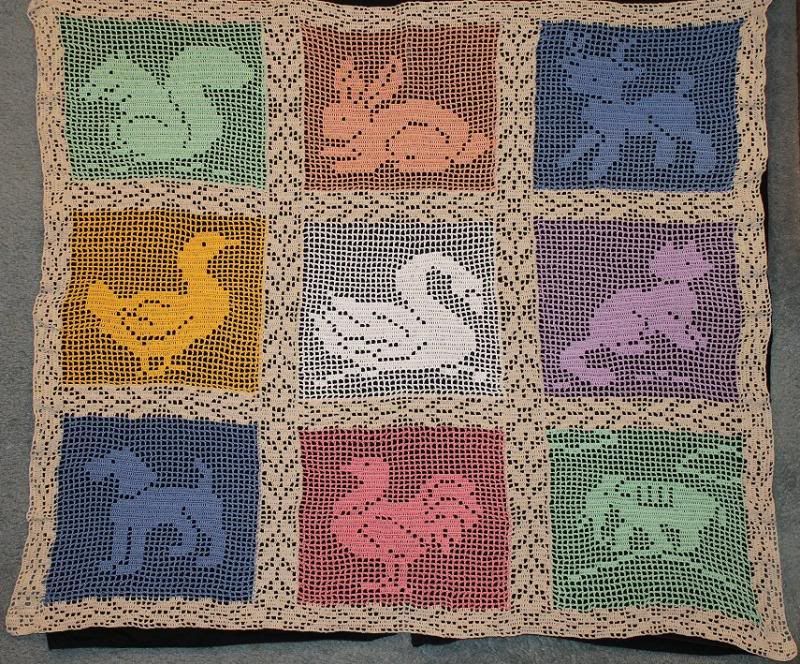 I got the 1979 pattern book online and I also found a pattern in an e-bay offer which was taken from a magazine.
(I got that one, too, in the hopes that there were more animals to the set but there wasn't. In fact, the magazine one didn't even have the nice border and wasn't even attributed to Elizabeth Hiddleson. It says "by Gloria Hodges" in the magazine. I think she just took the Hiddleson animal graphs and put her name on it. (Unless they are the same person with an alias? Or maybe a relative/daughter/whatever with her own copyright?)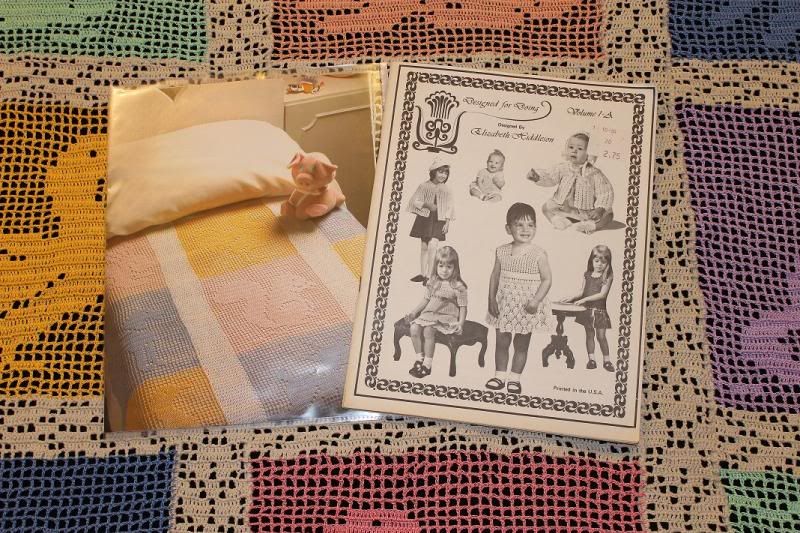 ANYWAY, I've seen the animals in another pattern too floating around so - whoever created the patterns - there you go.
Here's the back. You can see the seems where I joined the squares and the center panel pieces.
The hardest part was making those two middle panels. In order to have the crochet stitches go the same way as the squares, it had to be worked up width-wise instead of the longer length, (which would have been SO MUCH easier!) In fact, for the sides of the afghan, I just went ahead and did those along the length of the afghan to save my sanity!) LOL
I altered a couple of the animals that I thought looked a little weird on the graphs. The rabbit's head I made come to a pointed nose. (The graph was so icky! It kinda had a double cheek thingy going on.) I also made the cat's nose come to a point. (The graph looked like one of those flat-faced cats, (like Crookshanks!), which didn't seem to look right in profile like this
.) And also the elephant was too small for it's square. So I added a mound and some clouds to fill in the square.
I liked these squares because each one was finished with only one ball of Cebelia thread. Not having to buy two. YAY!!
The border is done with Coats and Clark Old Fashioned thread in ecru. Both threads are size 10. The crochet hook I used was a 7 (1.65 mm) steel Boye.
edit:
Monica Foster
from Ravelry sent me a note explaining that
Glendora Hodges
is Elizabeth Hiddleson's niece. That solves the mystery of who '
Gloria Hodges'
is from that Magazine pattern with these animals in it. Thanks, Monica!