Shiny Happy People Scarf
I finished this a few months ago and thought I'd get it posted so I can put it away.
(Please click the pics to enlarge them).


It's a skinny scarf tunisian crocheted using a size H cabled hook.
The yarn is that thin Omega brand Sinfonia which I also love to use for tapestry crochet bags.
It's 100% cotton and really nice.
I used a cross stitch chart for my name.
(It was a foreign language site and there was a squiggy over the e but I just ignored that while stitching it up.)
I made the stick figure myself on some graph paper.
(It's really
so
not me because I never wear dresses and don't really smile a lot but, lol, oh well).
After stitching it, you fold it in half and join in the back. The second photo shows the seam.
This way all the ugliness is hidden inside the scarf and no one sees it.
Plus it makes the scarf super-warm and snuggly.
So, even though it's a skinny scarf, it's pretty heavy and should keep the neck toasty.
I also have finished another Project that I started many moons ago.
Using size 10 thread, I wiggly-crocheted card suit trivets, (like the seasonal trivets I made a long while ago).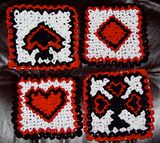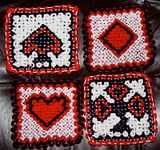 The first picture is the front of the trivets, the second shows the backs.
I'm sure I have other finished projects laying around that I haven't taken photos of yet.
I'll have to get around to that too.
Let's see, what else?
Oh yeah, I noticed the other day that Yahoo Geocities will no longer be a hosting site so now I have to somehow move my best pages that people visit the most to some other web-hosting site.
Especially the Recycled plastic bag Eco Tote, Retro mosaic tote, and the Pop-Top granny square page.
Anyone who has any good suggestions on where, (and how), I can keep these pages intact and move them to another web-hosting site would be greatly appreciated!