In Search Of Scribblers
Does anyone on this planet besides me remember the Scribbler school folders?
They came in black and white and you could color them in, (preferably with an awesome set of markers)!
I came across two such folders in my attic the other day. So I took them outside for some snapshots. (Click the pictures to enlarge them).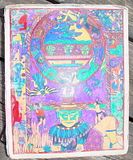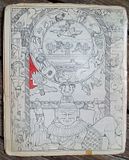 Here's the front and back of an Aztec-looking one. I actually still had Spanish class papers inside it!
The front was colored in but the back has only that one spot of red started. Clearly this was not my favorite pattern or I would have finished it.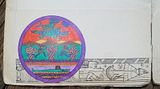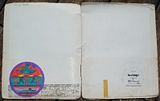 Here's the inside with the folder flap. The manufacture is Camp/Ellingsworth of Baltimore,MD. Made by Eaton Paper a division of Textron. The Scribbler Portfolio No. 7460
Where has this company gone? Why can't I find anything about them on the web? There's even a patent number stamped on it. PAT.#3,516,599 Maybe that's where to start looking.
Anyway, here's my favorite one. It has the seasons theme on it.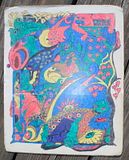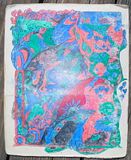 The front was colored much better than the back. Having a yellow helped. Plus, the back looks like it was done with inferior mushy markers. Can you imagine how much more awesome you could make these now-a-days with the fancy markers they have today?!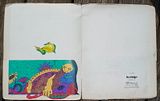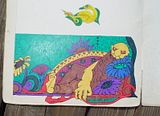 Here's the inside flap on this one. I must have liked that ogre-guy.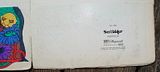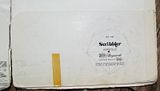 Here's close-ups of the manufacturer. If anybody can find anything out about these guys, can you please comment here or e-mail me?
And if anybody else has folders, I'd love to see them too!!!! I know they made more than just these two patterns.
It must take a lot of time to color one of these in, maybe someone else saved their folders.
Here's hoping there's more out there! I'd hate to think I'm the only Scribbler left!