Have a Snapey Christmas!
I made a new stocking for myself this year. (Click on photos to enlarge them).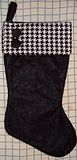 I started out with this really neat houndstooth stocking I found at Hobby Lobby.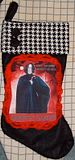 Then I got a great photo manip. someone made a few years ago with Snape as Santa, printed that onto an iron-on fabric and then ironed it onto the front of the stocking. I added a red ruffle lace border to make it stand out.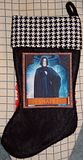 Here's the back. I did the same using the original photo without the Santified Snape. It already had a "frame" as a border so I just left it plain like that.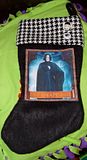 I also added two black and white face pin-back buttons I had already. One's a mime. One's a lady. This side didn't have black buttons like the reverse so I thought they would look nice there.

I want to wish everyone a Merry Christmas and thank you all who visit my blog.

Once again, here's a Snapey Christmas poem and card from me to you...

A visit from S. Snape