Mondrian Umbrella
Look what I bought at the Goodwill store last week! (Click to enlarge pictures).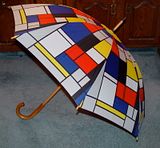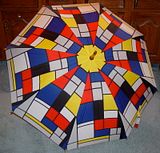 Yaaaaay! A Mondrian umbrella from Totes! I saw it just hanging on a hook on an endcap of an aisle of baskets and snatched it up. Then I began foaming at the mouth and falling over backwards.
Well, ok, that last sentence was a Monty Pythonesque joke but I
was
doing a sort of "happy dance" of joy. LOL!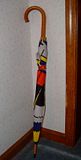 This photo reminds me of the last scene in Miracle on 34th Street. Only my santa is a way-cooler Mondrianmaniac! LOL!