Kangaroo Pouch
G'day, mate!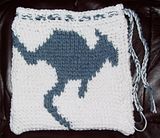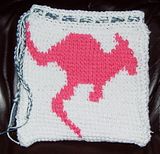 (Front and back).
I made this Kangaroo Pouch to go with the Aussie Flag Bag I made last year. It was supposed to be cell phone sized but it turned out to be 7" x 7". Ah well. After the drawstrings are pulled it does get smaller. And it's 100% cotton so if it were washed it would shrink I suppose. (But the colors might bleed into the white.)
The pattern of the kangaroo was a freebee I found here...
deirdre nelson's blog
(Just scroll down to the bottom.)
I used size 3 Aunt Lydia's denim crochet thread and a size H hook.