50th Anniversary Afghan
Next month my family will all converge at my folk's house to celebrate their 50th wedding anniversary.
(It's actually officially in January of next year but we realized that no one would be able to get together then right after the holidays and the bad weather as well).
So, August it is!
In honor of their anniversary, I decided to make a sort of "banner-looking" afghan that maybe they could hang up for the day or whatever.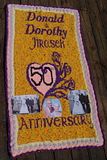 Here it is in all it's wildness. (Click on the photos for enlargement please).
It's done using TLC Wiggles yarn so all those "flecks" you see that look like confetti are "wiggles" that bump out and really add texture to the afghan. I used a size J cabled afghan hook.
I did something I've never done before. I got their latest photo, (the one in the middle), and a wedding photo from the attic.
I took the pictures of the photos with my digital camera. Then uploaded them to my computer.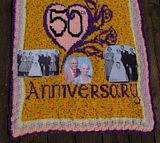 Then I got some special craft iron-on sheets in which you feed into your printer and print your own image on the iron-on fabric. Then you just iron it on to whatever you want.
So, I'm a little ahead of myself here because first thing I had to do was, of course, crochet the afghan.
I found something I thought would work great here...
Heart and Roses by Marsha Itro.
The graph link doesn't work so I had to do it by "row count" which was ok except I had to add in my own 50 in the center of the heart and it would have been so much more convenient to have had it in a graph form. I had tried to write to her in e-mail and asked for the graph, (which you can clearly see in that tiny thumbnail), but I got no response.
Anyway, I also had to find or create their names and the word anniversary too.
I used the
Celtic cross stitch graph generator
for their last name and also anniversary. For some reason the lower case r is capitalized like R so I just went ahead and followed the graphs. It makes it more interesting anyway.
I found a cross stitch site for their names, (only it was a foreign site and they spelled them differently so I wound up having to copy several graphed names and piece them together to spell out my names correctly. (Right now you are all thinking/wondering just what kind of a crazed, obssessive madwoman I really am). LOL!!!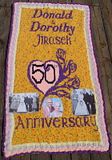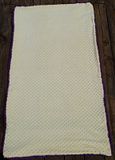 Once again here's the front and then the back. For the back I used a super soft felt-like material that actually has raised "bumps" on it.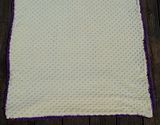 Here it is close up. I use a hand held leather hole punch and two different sized crochet hooks. A tiny hook to insert into the hole punch to grab the yarn through, and a size J hook to make the actual crochet single stitch which is the border. Once I had the whole backing attached, I did one more row of the basketweave stitch completely around it.
So, anyway, I hope they like it. I can't wait to see everyone. I hope the weather is good.
Not many people now-a-days make it to 50 years. They deserve a great party!!!!