Partridge Family; Mondrian; I think I Love You Afghan
Tomorrow being Valentine's Day, I wanted to get this thing finished and photos taken so I could have it for you as my Valentine! (Please click on the photos so that you can see the larger picture of it).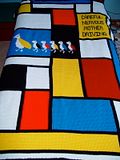 It all started with my plan to make a Mondrian style afghan designed like the fabulous Dutch artist
Piet Mondrian.
I had planned to make my own graph starting from scratch.
But then I found a terrific pattern at the Lion Brand yarn site...
So this is where I began. I did decide to change some of the colors around and the sizes of some of the squares too.
I wanted to do it in tunisian afghan stitch instead of their recommended single crochet stitch, (so I wouldn't have to keep turning the project over and read the graph from left to right and right to left etc). Much easier in tunisian.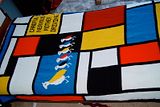 A side shot of the afghan.
So I got the yarn I needed. (Lion yarn recommended for this project was discontinued. So I used "I Love This Yarn" brand yarn from Hobby Lobby. Except for the blue. That is Red Heart yarn.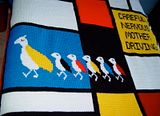 This is a close-up of the Partridge Family and the Nervous Mother driving sign.
I used a size J cabled afghan hook I also got at Hobby Lobby.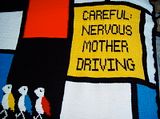 Careful: Nervous Mother Driving sign close up.
It's important to note that if you decide to make this afghan with this pattern, you need to modify it a bit where the black dividing lines are done! Because this stitch is taller than it is wider, I found that for every horizontal black line, I only needed to make three rows of black. But for every vertical black line, I needed to make four rows.
Very very important!!!!!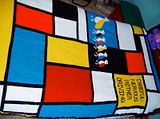 The other side view.
I wish I could have taken the pictures outside, but the patio is full of snow.
Well, I started the afghan and was cruising along. About half-way done, my husband finally decided to notice what I was working on. (My family doesn't really pay much attention to what I make anymore).
So he sees it and says, "Oh, I know what that is! Tha Partridge Family's Bus!!!"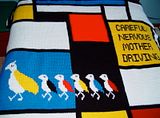 Close-up of the birds and sign.
"Well, yes, yes. It was like the Partridge Family bus but don't you know about the artist Piet Mondrian?"
Hmmm, I guess not.
But then I thought. Wouldn't it be funny to put a Partridge bird on it in one of the squares? Like just the mom?
So, I graphed out a bird after googling photos of their logo. Naturally, I had to try and make the kids as well.
(They look a bit ganglier than the original birds but oh well).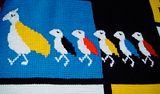 I decided when I was finished I would take a yarn needle with the white yarn and go around each bird since they looked really "block-like and gridded" and I wanted to make them more curvy like the original logo of the Partridges.
I also had to make their eyes just how I wanted them using a needle and black yarn.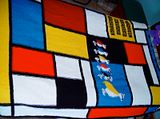 This is the back of the afghan.
Now. When I finished crocheting the family onto the blanket, and I saw that in the pattern, a big yellow square was coming up next, I naturally thought, "Wouldn't it be neat to make that sign which was on the back of their bus?"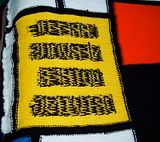 Here's the back of the sign area. This was tough to do. You have to keep the stitches loose or it will want to "bunch up" and tighten together.
So, I got out a cross stitch graph with block letters alphabet and used the lettering to design the "Careful: Nervous Mother Driving" sign. Now. Before you say, "Shouldn't it say "Caution: Nervous Mother Driving"? I will tell you that I looked this up very carefully because different Partridge Family sites have it listed as both.
Sooooo, I went to You Tube, and found a clip which has a shot of the bus just before they drive off. You can freeze frame the action and it clearly says "Careful Nervous Mother Driving". (I added the : just so it would make more sense).
The sign was actually in orange with black letters. And the black letters have white outlines around them. But here again, like the Partridge kids, I did my best to make it as accurately as I could.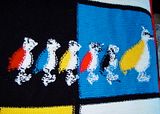 Here's the back of the Partridge Family birds. There's a lot of yarn because of the outlining in white as I explained above.
So, I hope you enjoyed this afghan. It was a blast to make. And I think I sang "I think I Love You" a million times while making it. I always loved the show. Loved Keith Partridge. Wanted to be like Laurie. Wanted to live in that family and have Shirley Partridge as my Mom. So this is my homage to them. And to all the single Moms out there running your household and working your jobs, I say, "Happy Valentine's Day!" You deserve it! I salute you!!!