New Spooky Stuff
Well, last week I spilled coffee on my keyboard. I can only use the right half of it now and it takes a million years to post things by copying and pasting. Bleh!
Today, I am using the other computer while everyone is away so I don't have to do all that.
I've been busy making a bunch of things which I finally got around to taking photos of today.
First is this spooky cat bottle gift bag...(All images are clickable for enlargement)....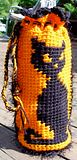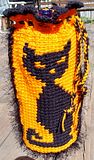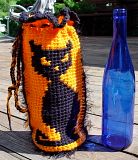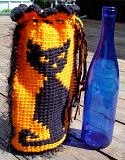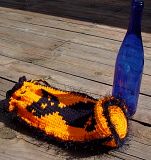 It has the same image of the cat on both sides. Tunisian stitched with orange and black Red Heart yarn. I put a blue bottle in the photo to show you the size and also how it looks with the bottle inside it. There's a drawstring closure at the top. It is trimmed with spiky black Fun Fur yarn.
Next is a spooky bag with a skelleton face on one side and a haunted house on the other side...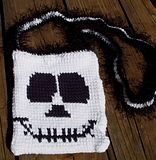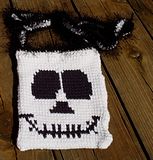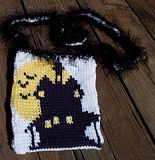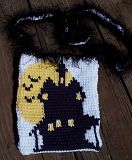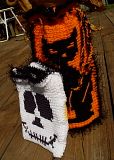 It's small. Only about 8 x 6 inches. A nice long strap. All cotton yarn. And trimmed in the same black Fun Fur. The last shot gives you an idea of the size compared to the cat bottle bag. Did you spot our hound dog? She tries to get in every shot I take.

These next two things aren't spooky but still...

Two mesh market bags. One with a round bottom. The other a sort of loooong oval.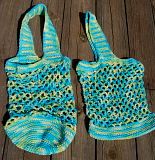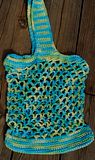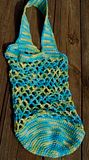 They are made with all-cotton Sugar 'n Cream yarn. I love cotton. The mesh makes them very stretchy; yet strong. You can hold a lot of things in these.

Oh I love this next one. It's a girl's bat signal bag.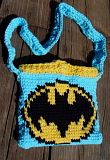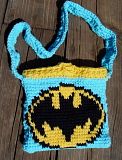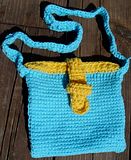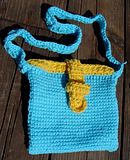 One side has the bat signal. Then I made the top of the bag look like a bat utility belt which goes around to the back side where I put a closure loop for keeping it shut. I still may add a button too if I can find one that's "bat-like" without spending a whole lot of money. This is also all cotton.

And finally, I made another bag. It's made using the Victorian bag pattern from Sugar 'n Cream. This took a long time and I love it too!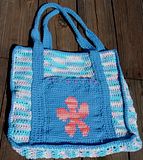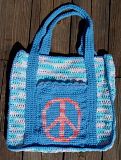 One side has a flower, the other has a peace sign. Both are actually pockets.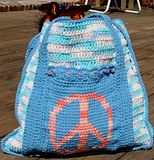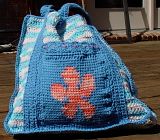 Here I stuffed all the other bags inside so you could see how it looks full. I added pastel glow-in-the-dark pony beads to the top of each side pocket. Just because. :o)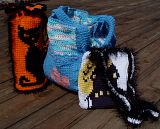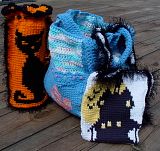 These last two shots are just so you can compare sizes. I'm putting most of these things in my etsy shop.