Clam Bag
And finally, this is my Clam bag, (the Fat Bottom Bag from the Happy Hooker crochet book).
I finished this a while ago but the weather was so crappy I finally just gave up and took pictures of it indoors.
(Images are clickable for enlargement)
(Front and back sides)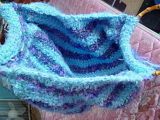 I already explained to you all in a previous post what yarns I used. (Lion brand Chunky in Pacific Blue and Denim Blue.) Also a thin, fluffly strand yarn by Yarn Bee called Luscious. (From Hobby Lobby).
I decided to try the striped effect by alternating the yarn colors. I think that turned out really neat. (Yes, I still say "neat") LOL!
It was so bulky from combining the regular yarn with the whispy yarn so I only did half the amount of rows the pattern called for in the middle section. To me, it kind of made the shape of a clam shell by not having it be longer. (This plus the stripes also made it look "clammy". ...LOL!!!!..."clammy" Tee hee!
It's hard to tke pics AND hold the bag opened! If my pics are too large or take up too much space, just let me know and I'll redo it.