State Square Afghan - Work In Progress (WIP)
Is anyone else working on the State Square Afghan? I think it will look great once it's finished but it does tke a lot of time.
I took photos today of the nine squares I have done. (Images are clickable for enlargement).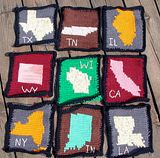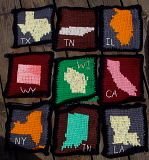 I'm doing mine entirely in cotton yarns, (either Lily Sugar 'n Cream, or that brand at Walmart that is the same - Peaches 'n Cream, or Bernat cotton), and I'm bordering them in Caron one pounder in black. (I couldn't find any all black in the yarns mentioned above although I know they do make it).
I'm doing them in the tunisian stitch using a long size H afghan hook.
I decided to add the initials of the state because I soon realized that, for some states, it was difficult to tell which end was up. I would die if I put the afghan together and then found out Tennessee was up-side-down!!!!!! :o)
I only work on them between other projects and so it's taken a year to do these nine. I'll probably just whip stitch them together when I start joining them.
I made an extra Indiana one for a Fall Challenge contest the IN Crowd is currently having. The challenge 'What, (to you), represents Indiana at Harvest Time?'
I figured I'd make the square into a pot holder. But I need to add some things overtop of it now, (like corn and harvesty things). Here's photos with the square I'm talking about. It's the one on the right that is not bordered in black.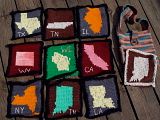 Maybe I'll just get some buttons in the shape of fall harvest items and just sew them to the square. I think it should have some batting in the middle and maybe a fall patterned fabric on the back. I know they sell John Deere fabric but I don't really want to spend money on this project. Corn fabric would be awesome! Or just black and white checkered fabric just because it's Indiana.
Anyway, that other thing in the photos to the right is my latest purse.
It's also made of Sugar 'n Cream cotton yarn. Single crocheted. Very soft and nice.
I put a brown bunny button on it.
The color is Country Brown Ombre. It's kinda "woodsy" even with that dash of teal throughout. I added a side pocket on the outside for chapstick or something that size. I'm going to put this in my etsy shop.