Frankenstein's Monster afghan
I saw a stencil of this and I felt I absolutely HAD to make him into and afghan. (Click on the picture for an enlarged view).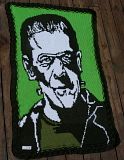 I was going to save it to show for Halloween but by that time I'll probably have a million other projects to reveal so I thought I'd do it now while it's all still fresh in my mind.
I was going to show a daily progress on it but by the third day I stopped taking photos. But I have the first couple for you to see.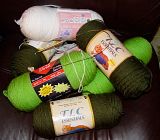 He started out as a pile of yarn with a size J cabled hook. (See it there in the middle?)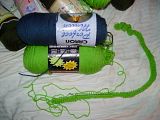 I began loading up the cable with the first and second rows of stitches and so it began. (I wound up not using that blue colored yarn. I was going to do his shirt in that. But then I decided to used an avocado colored yarn from Bernat instead.)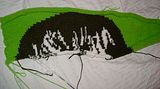 This was what I had finished by the end of the first day. I decided to start at the top of his head, since it was all one color, (the background spring green color). If I had started at the bottom, the beginning chain would have had a lot of color changes in it and that is always tricky for starting out.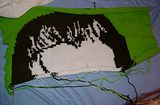 Here was the end of day two. After this, there was a lot more yarns to add for his facial features and I didn't want to get all the yarns tangled up just trying to take pictures so I stopped.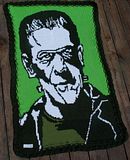 So then here he is all done. I sewed on one of my labels too. After I finished the graph, I used a black yarn with a yarn needle and added pupils. It's not very noticable. I just thought he needed something extra to help define where his eyes were. He's got so many lines and scars around his face I wanted to make sure it looked right.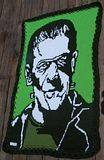 Here's a view from the side.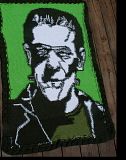 And finally, here's a back of the afghan picture.
I chose to do his face in white since it was originally a black and white movie and also I wanted all the lines on his face to really stand out. I don't know why he's usually depicted as having green skin anyway. I never read the book. Is that how he was described in it? Well, anyway, I chose the dark sage green for all the contrasting outlines, (hair, clothes, etc.), except for that touch of avocado in his shirt. This plus the spring green background still gives you the 'Frankenstein signature green' without having to compromise the face.
I think any lover of nostalgic horror movies would really appreciate this afghan.
Hope you enjoyed it too!