Frank Sinatra Mini-ghan
This portrait ghan of Ol' Blue Eyes is loosly based on this photo of him...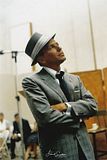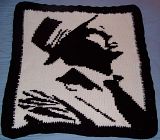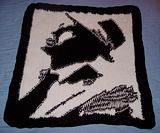 (Click on the pictures for enlargement).
It's small and only measures 28 inches by 27 inches. I have the front shot there in the middle and the last picture is of the back.
It's done with a size H hook.
Red Heart yarn in black and Caron yarn in white.
A nice lap sized afghan,
Or if you wanted to accent the back of a comfy chair or couch.
Or just hang it on the wall.
Wherever he winds up, he'll always be Chairman of the Board.