Dobby Afghan
Many people requested to see a house-elf doll or afghan. So, heeeeeeere's Dobby...
(Images are clickable for enlargement).
It reads:
"Dobby is used to death threats, sir. Dobby gets them 5 times a day at home." JKR
I have no idea who originally drew this picture of Dobby. I found it at a stencil site and I've looked and looked for it's original source but found nothing. I don't think it was made from a photo of dobby from the movie. If it was, they sure did a great job. Anyway, if anyone knows who made this drawing of Dobby to begin with, just send me the info so I can give them credit for drawing it. (My e-mail address link is at the bottom of this blog).
Dobby looks so sad in this picture I knew I couldn't use the quote when he receives Harry's sock from Lucius Malfoy and shouts, "Dobby is free!"
It was going to have to be a sad thing that Dobby said, (and I think this was the most poignant thing he's ever said too), (for me anyway.) I know I must bore you all with my occasional serious side to some things, but I'll just say that when I read the quote the first time; it made me think of a child living in an abusive home. It's something an abused child would also say if they could speak the words.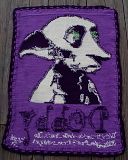 Here's a front and a back shot of the afghan.
I used my cabled J hook again. The portraits are smaller and the stitches are tighter.
Yarn used was Caron dark purple, Red Heart medium purple, and a yarn called Fashion Knit by tma yarns which actually has been treated with aloe to "soothe your hands as you knit". (Well, I don't know if that helped my hands at all, but I liked the color.) It's called off white but it's more like cream and it looks really nice with the purples. Oh! and the eyes are a Red Heart green. (I checked in the book Chamber of Secrets to make sure, and his eyes are definately green.)
The afghan measures 40" X 30". It would be easy to mount to a board and hung as a portrait.
Hope you enjoyed it!
I'm really looking forward to July for the next movie and, most importantly, the last book!!
I'll probably be a basket-case before and after I read it!
edit: Oh, this is
so funny!
Happiness, (that is her username), over at Crochetville noticed that the "r" in the word threats is missing! I'm going to fix that straight away. Did anyone else notice? Sometimes, just like Neville, you have to stand up face-to-face with your friends and tell them they are wrong! Thanks so much to Happiness for setting me straight!