A Tale of Two Snapes
This all began, about a month ago now, when a Potter fan from North Carolina requested a Snape doll like the one I first crocheted about two years ago.
Snape was the first doll I had made.
He was the simplest one to make too.
No flashy, sparkly yarns or clothes. Just black and a palid color for his skin.
How could I refuse this request? Snape is also my favorite character in the Potter series and I can totally relate to anyone who also feels connection with him.
So, this is my Snape doll for K.T.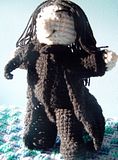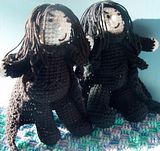 New Snape is to the left, original Snape is to the right.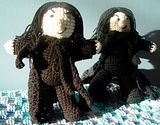 But it wasn't long before things got ugly. This new Snape was quite a sly-looking, crafty individual. An all-too handsome foe that Original Snape had a hard time dealing with. How could Original Snape be expected to share the limelight with this,...this,.....Imposter!!!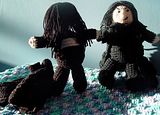 When he got a nice fancy label sewn to his back, (something Original Snape had yet to receive), that's the moment my original Snape started harboring bad thoughts about this "Imposter Snape", (as he would call him).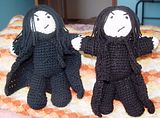 Clearly, the town of Carmel was not big enough for the likes of two Snapes. Original Snape was begining to plot disasterous scenarios involving both Snapes atop my crocheted Hogwarts castle.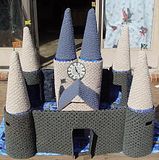 (check my archives for tons more pics of the castle and dolls)
And, being the only Snape with a wand, Original Snape had every intention of eliminating his slick, albeit devilishly handsome, adversary.
Luckily, I received payment for New Snape just yesterday and he will now be apparating his way to North Carolina today.
Original Snape is very pleased to find out that New Snape will be sharing a shelf with a stuffed moose.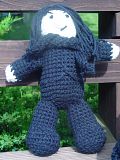 Revenge is sweet.