Martin Luther King Jr. Afghan
It'll be here on Monday but.....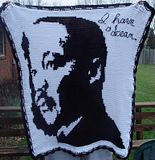 Happy Martin Luther King Jr. Day!!!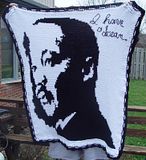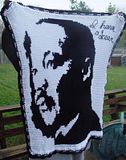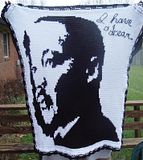 I got a wooden size N tunisian cabled afghan hook from
Dreamweaver Yarns
for Christmas and couldn't wait to try it out.
I have had this King stencil for a while. It actually had a Liberty Bell in the background but it was much easier to just tackle the portrait alone.
It's the largest hook I've used for tunisian stitching. It's not as compact as the other afghans I've made. It's lighter.
Here's the back. I still need to weave in the loose yarn by the words. I just did that free-hand overtop the afghan. (All images are clickable for enlargement).