Potter Purse Fabric Fun
Today I'm posting on my IMac and so it will all be in one boring color. (When you use Safari, there are no choices for cool things like color, fonts, etc.) I usually use my "craptop" but not today.
I like to make purses, (obviously), and especially out of old jeans. I wanted to post a little "How To" on it so you could make one too. (I think I accidentally had the cursed "white" button pushed and everything looks bluish for the first bag. Sorry about that.) All images are clickable for enlargement. I'm using My Online photos to host these. I don't think they give you very much bandwidth so I guess we can just view them while we can and see how long they stay up.
1). Cut the leg parts off, sew it together along the bottom. (I added a strip of Gryffindor-colored fringe on this one.)
2). Use the leg scraps to braid into a strap.
3). Wrap more fabric over the braided strap and sew it together or just leave the strap the way it is. (But you may not like all the fraying).
4). Sew the strap to the sides.
5). Embellish the bag however you like. I used the "Escape from Privet Drive" fabric for this bag. Also a "Chaser/Beater" fabric and a Harry flying during a Quidditch game. I lined it with a blue fabric with teeny tiny flowers.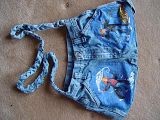 My favorite fabric is the Pesky Pixie fabric which I used to decorate this bag. Ron and Hermione on the front. Harry and what I think is the Burrow on the back. (I think the Burrow is from the "Escape From Privet Drive" fabric.) I left the fabric off the strap so you could see what it looks like. You just cut the leftover leg fabric into strips and start braiding.
This next one is just a Ravenclaw House Shield fabric purse. I left it plain on the front. The back has the Ravenclaw shields on each back pocket, (it must all be sewn by hand so you don't sew the pockets shut!!!!), and for the brand name tag area I sewed a piece with a Snitch on it. The lining is a greenish ivy.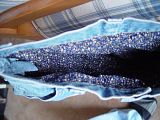 It's a good idea to line your purse with fabric. It doesn't have to be Potter fabric. It can be stars or whatever. I used the same one with tiny flowers for this bag too. For keeping closed you can buy those really nice magnetic closures.



More Shields. This purse is a Hufflepuff. The front is also plain. I like the stars fabric on the straps.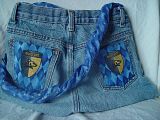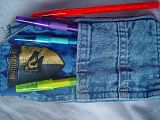 Oh yes. This is different. Two pairs of pants had those side pockets with lots of compartments. So when I cut off the legs for straps, I saved the two pocket pieces and sewed them together, (back to back), Then I added a shield to each side. I think with a long, thin strap of some kind it would make a cute bag. I'm not sure it's wide enough for a cell phone. They are all so different so maybe. I don't know. I put some pens in the pictures so you could see the size.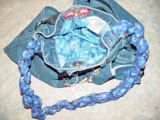 This last bag is the one I use all the time. My son had just gotten these jeans and was riding his bike in our neighborhood when one pantleg got caught in the chain/spoke area. It ripped a line straight up one pant leg, (and NOT on a seam either!) He had to walk home in these torn jeans, pushing the bike, whose wheels weren't working because the cain came of).
Well, I decided to use the jeans for a purse. So this is what I did. I added two Harry Potter bracelets with potion bottles (joined together), by looping them to the front belt loops. I lined it with the sparkly Chaser/Beater fabric. I added a magnetic closure where the button is. Just along side it. Works great!
On the back I added a rose patch. Also, I got this great jean fanny pack at Goodwill which has a belt attached. I simply added the belt around the purse like you would if you were wearing the fanny pack as it was meant to be. It adds a LOT more pockets and compartments to the purse. I like to keep coupons up there. I also added a black hearts patch to the back of the pack. To the front of the belt I added a Slytherin sticker.
This purse is much more discreet. You can be a crazed Potter fan and nobody would even notice unless they got up close to you. I still like the Pesky Pixie purse the best. Maybe some day I will be brave enough to use it!