The Whole World In Her Hands
Where in the
world
have I been? Working on this
Globe Tote!
(Click to enlarge images).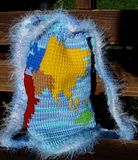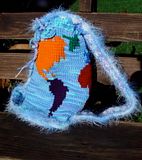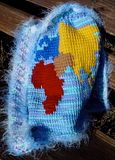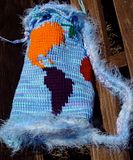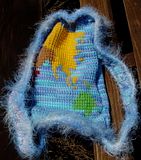 It's done in tunisian using a graph of the map of the world.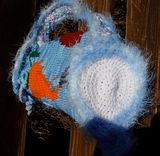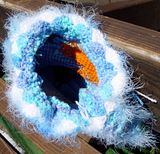 Here's the bottom and top. The Antarctic had to be a perfect circle. The top has white shells that, when cinched closed, kinda, sorta, make up the Arctic.
When I started this project, I had tons of leftover yarns to use for the land; but I had no medium blue like I wanted for the water. I decided to use this variegated Red Heart yarn because it had the kind of blues in it I wanted. Well, guess what. When I was halfway through, I read the color lable on the pagkage, (worried that I may run out and need more), and do you know what the color was???
Ocean!!!!!
LOL!!!! I was so surprised!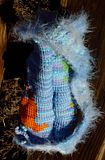 Here's the side where I joined the two ends after I made the graph. There is a strap going down each side from top to bottom.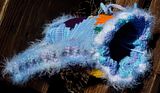 I used a sparkly fingering baby yarn, (two strands) to do the straps. Then, to represent clouds, I trimmed the whole bag and straps in this super fine, soft sky-blue Moda Dea yarn. It's really wispy and nice.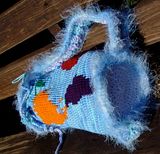 I chained a drawstring for it. Hope you can see it there. This is up-side-down so it's along the bottom.