Elvis Blanket
Where have I been and what have I been doing?
Well, mainly getting the kids back to school and working on this Elvis blanket.
It's been 29 years tomorrow since Elvis' death. I remember exactly where I was when I heard the news. My best friend Nancy and I were in Chicago staying at her grandma's apartment and all excited about going to our first Beatlefest convention which was at the Palmer House hotel I think.
We'd just rode the train and had gotten to the apartment and were sitting on the floor watching the news on t.v. I was 13 years old. I was too young to have experianced the Elvis craze. (Heck, even too young for the Beatles craze, but I knew what I liked. Loved. ) I was very much into listening to the oldies stations. I knew this was a really big and shocking event.
We just sat there with our mouths open. Dazed. Sad. And we cried.
And so,..... here it is,.....and he's HUGE! Just like the King.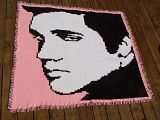 This blanket is twice as big as the John Lennon blanket.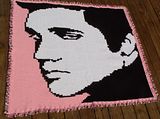 It's so big I had a really hard time fitting it all into the shot. No one is home to hold it up for me. Everyone went back to school today.
The trim is a fuzzy pink/black/white/grey yarn from Hobby Lobby. Sooooooooooo soft!
I chose pink because these colors remind me of the 50's. Poodle skirts, pink cadillacs, a 45 record holder case I have, saddle shoes. These things are all pink, black, white, and grey.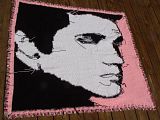 Here's the back which I still need to do the weaving in of the yarn threads. Not nearly as many color changes in this one as in the Imagine blanket. It was actually easier in that way. But it's so big that the bigness made it difficult just the same.
I chose a more somber looking Elvis photo to use. He looks a bit sad in it. I thought that had more meaning for me. Hope you enjoyed it!