Beatles Graphed Afghan
Alright, I couldn't let today go by without wishing Sir Paul McCartney a happy 64th birthday.

I love the Beatles and when I was younger my friends and I would always throw birthday party sleep-overs for the Beatles whenever it was one of their birthdays.

Soooo, here's my tribute to the Fab Four on this day...(Images are clickable for enlargement).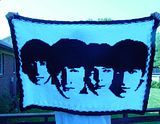 For some weird reason the glare from the white in the blanket confused my camera and made it look bluish. It's really all black and white.
Well, anyway,
to Paul. A true romantic.