Snape Cross Stitch
I am still working on the castle.
I have also received some glow-in-the-dark yarn from e-bay which I am using to make a Voldemort doll. He's lookin' really cool!
With no finished projects this week, I thought I'd share with you my Snape cross stitch I made a couple years ago.
I actually made five of these.
I sent the first one to Alan Rickman, but never heard back on it. Don't know if he even received it. Bummer. I'll never send him another thing.
Anyway, I also made 3 for some Snape friends who placed orders with me.
One I made for myself and framed. It's really awesome and almost life-like.
I ordered the pattern from e-bay. It was from an autographed photo. (I guess it's the closest I'll ever get to getting an autograph from Alan.
Anyway, here's the photo I took of the first one I sent to him...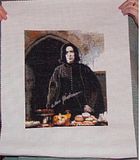 (Click on image for a larger picture).
It takes about two months to make one. I've sort of burned myself out on making them. But I'm glad I did.
Since I'm using this post for cross stitched items, I'll also show you my checkbook cover I made.
I bought a do-it-yourself morning glory checkbook kit and just put my own design on the front and back. I have a Harry Potter cross stitch pattern book which has many images you can choose to do.
This shows the entire checkbook cover's front and back.
Here's one side.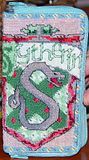 The other side.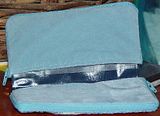 And the inside.

I took these pictures about a year ago. It has since been used every day. Needless to say it's showing a lot of wear. But I love it. It took a while for my hubby to get used to it. But he's a real sport and doesn't mind my weird obsession too much. LOL!!