Snape Graph-ghan
I'm still working on the castle....I swear!
But my new year's resolution was to teach myself tunisian crochet so I could create a graphghan.

Well, after a couple of slightly distorted small ones, I think I finally figured out how to get it right.

It seems the stitch is longer than it is wide. So you need to double the width for every square you make going upwards.
Did that make any sense to anybody out there? LOL!

All I know is, for this Snape afghan, I quadrupled the width and only repeated the squares going upwards 3 times, (since the stitch was longer than wide). I hope I have made myself understandable.

ANYWAY, I used a 50 X 50 px Snape icon. This


I took off the cunning word and made my own Snape word. The S is a snake with a cat's eye for his eye and a yarn tongue too. (Look for this cat's eye for when I reveal my Voldemort doll soon.)
These next two images are clickable to enlarge them for you-all to see.
This is being held up by my mother-in-law, (who thinks I'm totally nuts). LOL!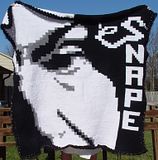 It looks best when viewed from a distance. I was surprised how much it did look like the picture.
When you are working on it you are thinking, "Oh my gosh, this looks like some kind of ink-blot test. Or sort of art-deco thingy. But when held up in a mirror at a bit of a distance, I could see how it actually was going.
I really enjoyed working on this and am now working on an Alan Rickman one.
As far as the castle goes, I've got the roof problem in the Great Hall fixed and am now working on attaching the portraits to the outer walls. Voldy is done, (though I'm debating whether to add ears or not.....