Star of Gryffindor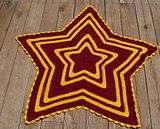 I made this last week. I had the idea after seeing the Beth's Little Star pattern.
I'm not sure I started the pattern correctly as it was a bit difficult to understand. But I made it work! Here's a couple more shots. (All images are clickable to enlarge)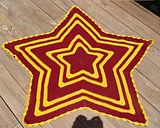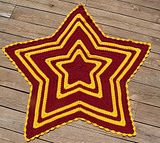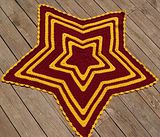 I wanted it to resemble the House scarves everybody makes. The center has 6 rows of claret red, (7 if you count the 5-"spoked" beginning), 2 rows of Poppy (it's really a gold color), 2 rows of red, 2 rows of gold, 6 red, then 2-2-2 again, then 4 rows of red.
I edged it using a shell stitch of 6 clusters each, (with 8 clusters at the star tips). There are a total of nine shells along each star's "arms". Hope you all understand that.
I thought of adding tassels to the tips. Maybe I still will. I always seem to go over the top. LOL!!!!
I'd like to do one star for each House eventually.

I'm not even sure what Ravenclaw's colors are.