Purple Squishy Afghan
Did you have a happy 4th?
It was a long ride to visit our old neighbors back in Illinois and so I worked on this afghan both ways. (Images are clickable for enlargement).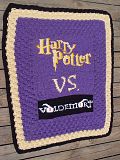 It's made from that really soft yarn from TLC Amore (Sandstone and Black), and Red Heart Plush yarn (Dark Purple). It feels like a terry cloth beach towel when crocheted.


I had an idea to make a purple sleeping bag but that would have taken much too much yarn and time. This is very warm and cushy just the same.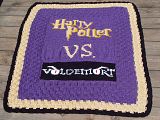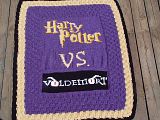 I did it in three panels using the graphs, then did the basketweave stitch around the whole thing several times. The VS. ,(versus), panel in the middle must have gotten a few extra rows squished in there as it looks a bit puffy, but oh well.
For the graph designs I used the cross stitch patterns which are found in that French Harry Potter book which looks like this...

So you'll just have to buy that book if you like the graphs. (I got mine on e-bay.)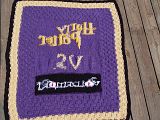 Here's the ugly back.
Hope you like the afghan!