House Shield's Footstool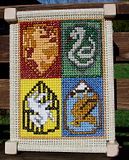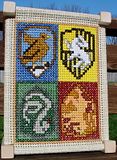 All images are clickable for enlargement
Since doing the House Shield's Afghan, I had an idea to make the shields fit onto this vinyl-weave type fabric and maple footstool cross-stitch kit I picked up at Hobby Lobby last year.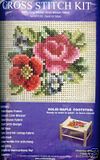 It's from a company called
Crafterspride
but when I went to their link, the item is not available so I guess it was discontinued. I did find a few for sale on e-bay for ridiculous prices.

Anyway,
It had been lingering in my closet a while now because I really didn't want to make the original rose pattern they have provided in the package. Bleh. How boring.
So, when I saw some wine cozies that a gal, (

hardhat_cat),

over at the Harry Potter Crafts group had knitted, I knew she must have used graphs, (and really

great-looking

graphs too, I might add). If you join the group, you can access the photos. Her photo album is called
Cats Corner.
Fabulous stuff!
I sent her an e-mail asking about them and she sent me the graphs. Woohoo! They look awesome! I will try to crochet a wine cozy eventually, but this is how I used the graphs so far.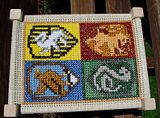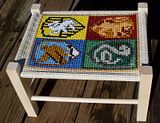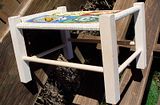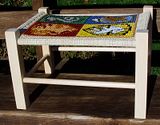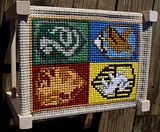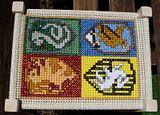 (Clicky)
The kit comes with everything you need, but I had to use my own floss for all the House colors. I used to be way into cross stitch so I have a lot of floss.
I wanted to make the bench nice from either side you viewed it from, so I turned the two bottom shield's graphs up-side-down and I had to stitch two in reverse so they would all be facing inward, (even though the badger is looking the other way). (Sneaky badger!)
After you do the cross stitching, you assemble the wood parts with wood glue. (Oh, you need that too. Wood glue. The kit doesn't have it). The pieces just slide into place. It's a really nicely crafted wood kit.
Then, you have to sew the vinyl-weaved stitch project to the top of the stool using some strong Cane Cord provided in the kit. It really seems sturdy now. I think it will hold up nicely.
Oh, one more thing. I joined another group. http://happyhookerchaingang.blogspot.com/
They work on projects whose patterns are in that Stitch 'n Bitch Crochet book by Debbie Stoller. This months challenge was the skull potholder - but - you had to "personalize" it to your own liking.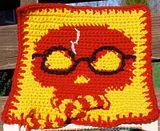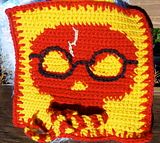 Front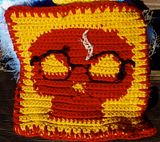 Ugly back
Well, you all know what I HAD to do. Here's skulled Harry (I suppose after death), still wearing his glasses, Gryffindor scarf, and I guess that darn scar of his went all the way to the bone! LOL!!!