Aussie Flag Bag
YAY!

Since someone here requested it, (and I'd already been working on it myself), the Aussie Flag Bag is finished!
I found an Australian flag graph at a beading site. But even that wasn't perfect. I had to fix it up a bit.
Here's the bag I came up with......(Images are clickable for enlargement).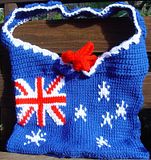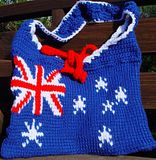 Each star has the proper amount of points. It looks a bit different since it is graphed stars.
It has two red ties in the center to make a bow and close the bag.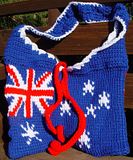 Here it is untied.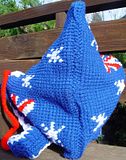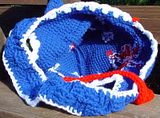 Here I wanted to show the bottom and how I made two flags and sewed them together at the bottom (and one side too).
Also, I opened it to show the inside. Not very pretty, could use a lining, but it isn't necessary. The stitch is close and things will not fall through.
I've made a page where I've posted the flag graphs and pictures of the finished bags.
Flag Bag Charts