Ron and Hermione dolls
Well Happy New Year to all of you!!! I've been very busy this vacation. (Prepare for a mega-post).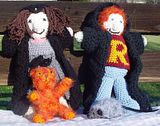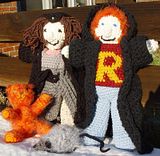 I finally finished my Ron and Hermione dolls. Harry won't be alone at my crocheted Hogwarts castle anymore!First I'll start with Ron. (All images are clickable for enlargement).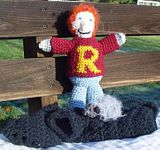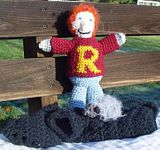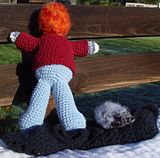 I had to make him in his maroon R sweater. I used a faded blue color for his jeans because he probably wears hand-me-downs.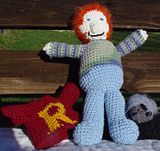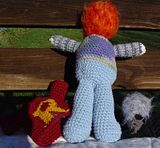 For his shirt I chose a faded country variegated color so it would look "patchy" or at least one of Mrs. Weasley's knitted creations.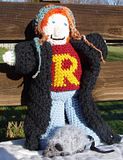 I also made him one of those hats with the long tassels which he wore in the Prisoner of Azkaban movie. Ron's hair and Scabbers hair is made by crocheting over top the dolls after I made them with the cotton yarn first. It was a no-name brand I picked up at Target last year called knitting fur. I thought the colors for Ron's hair were perfect. The sun was so sunny today it was difficult to have it not too bright. Hermione and Crookshanks.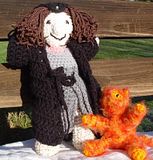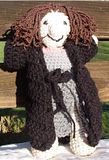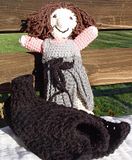 Her school uniform is all one piece. (It was easier to do it this way). I tried to make the skirt look pleated. There is a simple black belt to cinch around her waist so it looks like two pieces.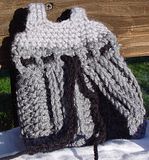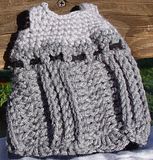 I know I have one of those pins that look like a skirt pin to help keep the skirt closed wherever you want. I just need to find it. (My Jr. High School teacher Miss. Craig always wore them).Here she is with the uniform off. I made her top pink. So, if I make her a pair of "jeans" she will look like in Azkaban with the pink hoodie on.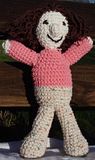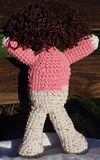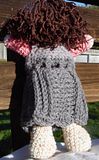 Now. About her hair. I wanted something that would make it look "bushy" and wild and unruly. I went to Walmart to look for a brown yarn and saw this Bernat Cool Crochet brand and immediately knew I HAD to use it. It's really awesome. It has a shiny metallic copper color along with the brown. (Many of us would kill to have this naturally in our hair!). The problem was, the yarn is so thin. I knew just putting it on her head wouldn't be "bushy" enough. So I decided to put each "hair" on individually, chaining it about 20 times each for thickness. I think it worked great. It took quite q while to do.Crookshanks and Scabbers. I love them. I used cat's eyes you can get at a hobby store for Crookshanks and the same orange fur yarn as Ron.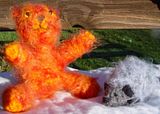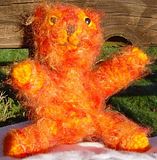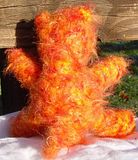 Here's the trio together at long last.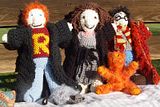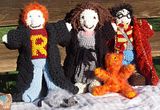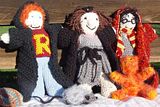 You'll have to check the archives here to see the rest of the Potter dolls. Some time this summer I'll try to get some nice pictures of everyone.
Also, I finally found some "wands for the dolls. At Herrschners, they sell "laying tools". (I really don't know what a laying tool does but they also call them "shawl pins" Anyway, I got four different ones for some of the dolls. They make the perfect looking wands.

This one is Snape's wand. I see it is being clearanced this week at Herrschner's and there are only 10 left. I got a bone-white one for Voldy, and a brown spiral one for McGonnagal, and one more I can't remember how it looks. I guess Harry will get it.

Anyway, Happy New Year. I have lots of other projects to photograph and post. This will be a great year!

Please, if you haven't already, visit my "Visitors Map" over on the left margin there somewhere and stick a pin in your place in this world. So far there is only U.S. and Canadian visitors posted. I know there's lots more from all over!!!! Don't be shy! Say a big hello from your countries too!

Thank you all for visiting my blog!!!! You're all great!