Mad Tea Party Tote
I was going to call this the Tea -Tote - aler but that looked too weird. LOL!
(All images are clickable for enlargement).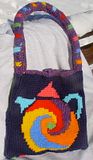 Well, you'd really get noticed carrying this around for sure!!! I did it in tunisian afghan stitch using a long size H hook. No cable this time. It's a dark navy with bold colored yarns too. (The purple is the Wiggles yarn. I thought it would be fun to stick that in as well.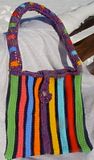 The back is just as wild! Vertical stripes all across. See the button which keeps it closed there? It's a metal teapot-shaped button! I was so happy to find it in my sewing basket, (yes, even I don't know all the stuff I've stashed away. I'm terrible that way. Like a squirrel. LOL!!)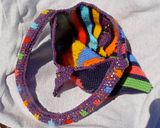 Here's the inside. It's not lined but with the size H hook, it's pretty tight and I think it would hold things very well without fear of stuff falling through or anything. I'm the worst when it comes to sewing in linings so really it's all for the best. I'd only ruin it. Hee hee!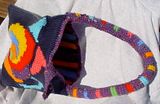 I really love the handle. I made a sort of "tube" and then stuffed it with two plastic shopping bags. Yay! Recycling! It's very soft, sturdy, and comfy.
I had a lot of fun making this during the Superbowl, (and it certainly helped that the Colts won too!!!)
The body of the bag measures 12" x 12" and the handle from end to end is 24" long. I love this bag!