Excuse Me While I Kiss The Sky - Hendrix Afghan
Finally!!!! I got this done!!!!
In honor of Black History Month here in the U.S.,I bring you.......
Jimi Hendrix
(Images are clickable for enlargement).
A while ago when I did my Beatles afghan, someone visiting here asked me if I had a Hendrix graph. Well, after googling around a bit, I found this super-fan-tab-u-lo-sa picture. It was soooo great, I HAD to try it myself.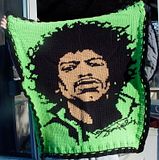 I had to wait until my son came home from school to hold it up. So the sun was at a very low angle. And it's freeeeeezing out today!!!!
Here's the backside. It looks very scary like he's a zombie or something!!!
The hair was very difficult but I think it was very rewarding as well. The original picture had a hot pink background but I didn't have that color. I'm glad because I really like the neon green. I used the Red Heart warm brown left over from my Hogwarts blanket. It couldn't be too dark so the black would show up.
I just love making these "pop art" looking blankets so much. I was thinking of starting my own business and selling some. But I would only make one of any image. (I really think I would go mad creating the same image over and over again. That's just not right).
I have to think on that some more. I really don't even know where to start. Anyway, hope you all enjoy Jimi. He's very cool!!!