Casey's Afghan
This is my son Casey. He is a wrestler. A really
awesome
wrestler!
(Click for enlargement)
Well, Casey never made it to the finals which begin tonight at Conseco Fieldhouse in Indianapolis. He lost in the semi-finals. But he will be there tonight and tomorrow to cheer on his team mates who did get there. And he's continued to practice with them so they would be ready for their meets.
I made this afghan last month by using this photo of him which appeared in our local paper...
It is the first time I created my own graph from scratch. Taking the image, messing around with it in my iphoto shop. You have to make it black and white and then fiddle with the sharpness, toner, and a million other options, until you try and filter out all the unnecessary things about the image and have what you think is a good representation of him.
This is what I ended up with before I graphed it at the
knitpro
website.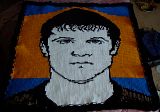 I chose blue and gold for the background because those are his school colors. He's wearing the camouflage shirts the whole team has, (with their weight numbers on the back), so I did that in a variegated camouflage yarn. That was a bit strange but I like how it turned out. His eyes are done in ocean Red Heart yarn. He has beautiful eyes.
Once more of the front and then the scary back.
We're so proud of Case and I know he was trying so hard to make it in. I hope he continues to wrestle in college because he really is fun to watch. He's a real fighter!