You're The One That I Want - Travolta Afghan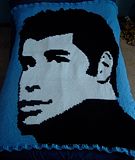 Yes! It's John Travolta from the movie Grease! This was a commissioned afghan by someone for their daughter who loves John Travolta.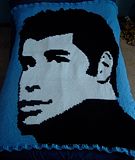 It measures approximately 47" by 66", (about the size of a single sized mattress).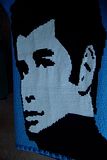 Here's another angle. I had to stand on an old tv table to try and get above it.
I used Caron one pounders in white and black and an absolutely gorgeous Periwinkle color in Red Heart.
I used my new size N cabled crochet hook.
Everyone's been saying, "Sign your work! Get labels! Something!" So I went ahead and ordered fabric labels to sew on my things as a way of saying, "Hey! I made this!" (My close-up shots are blurry. Sorry about that.)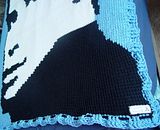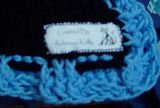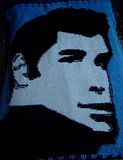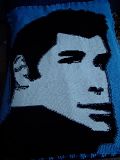 And here's a couple of back shots. The back really doesn't look bad at all.
I got the picture of Travolta from a stencil sight. They used a poster of Grease! so I just blew up the picture and cut out Olivia Newton-John and graphed it.