Stitch & Zip card Cases - Slytherin Style
I love Hobby Lobby. When they have a discontinued item, they immediately mark it down half price. And they always have great stuff!
Last month, I was in the cross stitch aisle and saw some
Stitch & Zip kits
on sale. I grabbed them all. I couldn't help but notice that, althought the teapot ones were cute, they had a dark green velvet back to them. Slytherin green.
And the one with the black velvet back was supposed to be all these items you'd find in a ladies purse. Well, not for me. Not when I have a gridded Snape pattern waiting in the wings....
They are not done in a true
cross
stitch. It is more like a half-cross stitch. (Like you would use for plastic canvas or tapestry embroidery.)
So, here are my finished card/coin purse cases...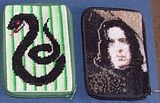 I took a ton of pictures. As you can see, there are two with the Slytherin snake mascot on them and one is a portrait of
the
Potions Professor Severus Snape. (The picture is from the first movie during the Halloween Feast when it is announced there is a troll inside Hogwarts somewhere. Snape looks very concerned)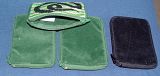 These are the backs. It feels like velvet. I'm not sure about the actual material. And the other shot shows one with a zipper open. All the zippers had to open along the side because the images I chose were long so I couldn't make them with the zipper starting at the top.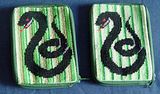 The snakes are exactly the same. Just different backgrounds. (I like to think of it as Slytherin wallpaper). LOL!!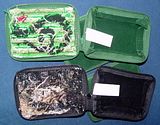 Here they are unzipped all the way so you can see the insides. Lots and lots of thread. Snape's was the hardest with tons of colors. I will probably sew my new lables inside here but I'm not lining it. The threads are all secured underneath other threads as best as I could do. I don't think they will come out. I think it's important to see the work that goes into these.
I'm thinking of selling them at etsy. I have a pattern for each of the house mascots, so, if I see any Hufflepuff (is it blue?) or maroon (gryffindor), or yellow (Ravenclaw), I can make some of those too. These are a lot of fun but the kits, full price are expensive (as you can see from the link at the top of this post.) I don't think I'd ever do another Snape. He was way too hard.
And to really appreciate him, you need to step back a bit from the purse and look. But he is really awesome!