John Lennon Self-Image Purse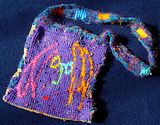 Yes, another John Lennon thing. He's great. What else can I tell you that you don't already know? LOL!!
(Images are clickable for enlargement).
I made this bag similar to the Mad Tea Party bag from January. It has a crocheted self-drawn image John once drew on the one side, and bold vertical stripes on the other.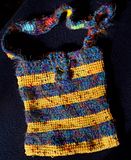 It is all one piece like the teapot, only instead of starting on a side and working through the teapot graph and then the stripes for the back; this time I began with the graph
up-side-down
so, from the top of John's head. Stitched the graph to the bottom of his head. Then continued to what would be the back and made stripes. That's why these are horizontal whereas the teapot's are vertical.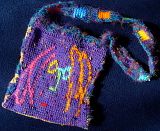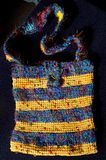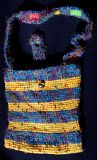 I used the wiggles purple yarn and lots of bold colored left-over yarns from previous projects. The handle is flat this time, (I didn't make it into a tube and stuff it like last time.) The button. Can you see it in the last picture? It's a green apple. Hee hee!!!!! (I love it when things all work out just right!) This bag is really neat!