Iron Eyes Cody Afghan for Earth Day
Ah, Sunday and the sun is shining!
Finally!!
I was able to go out and take photos of this for you-all.
Iron Eyes Cody
Image is clickable for enlargement)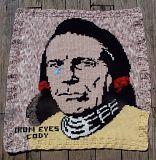 If you are a child of the 60's, or 70's you will recognize this man. He is the one who became known as "The Crying Indian" from a "Keep America Beautiful" ad champaign released on Earth Day, 1971. It was titled "People Start Pollution, People Can Stop It."
(It went on to become one of the most successful and memorable campaigns in advertising history.) (I'm sure now-a-days he'd be called "The Crying Native American" but this
was
the early 70's after all).
Thanks to youtube, you can view this public service ad here...
Keep America Beautiful
I hope that link works for you. If not, there are a few others with the same ad on that site.
Anyway, before making the afghan, I watched the ad many more times myself to try and get the colors right.
It reminded me how, when I'd seen it originally, it made me want to run out and just start picking up poptops and cigarette butts and trash I was now noticing for the first time everywhere. It's really a shame that we seem to have just accepted the trash around us now as an all-too-common, yet, unpreventable happening.
In fact, during the time I was making this afghan a couple of months ago, I was eating in my car outside a Wendy's restaurant and watching a Goodwill parking lot across the street. I saw a man leave the store with whatever he bought in a bag, walk to his van and open the side door, lean in for a while, then, take out the now-full bag. (He'd obviously just cleaned up his van and used the bag as a garbage container). He walked a short distance to where the parking lot ended. There was a steep drop to a water-retention pond below. He hurled the bag over into the water! I was shocked!
We need more campaings like this. We need to keep reminding the public that this is unacceptable and everyone needs to act responsibly.
So, anyway, now I'll talk about the making of the afghan itself.
It is the tunisian stitch crochet done with a size J cabled afghan hook.
I wanted to use all earthy tones. The background is
Caron's Rainbow Omber called Earth Tones.
His face is done in
TLC Heathers yarn called Oatmeal.
The black is Caron One Pounder in black. For his feather, I used Caron Feathers yarn. (It's a Peacock color.) The whitish area which is around his neck, (I'm not sure what to call that he is wearing) is Red Heart's Aran Fleck. (I always laugh at that color title. It sounds like a person's name. I'm sorry, have you met Aran Fleck? LOL!!!) For his clothes, I chose a maize sort of yellow. (I had a few old Berella skeins I got at Goodwill.) There's no color name on these, just a color number of 8870. I couldn't find this particular color on-line anywhere. I'm not sure they make it anymore. The red for his hair ties is a sort of fuzzy, fluffy yarn called Carmen Wine Red from Patons. And finally, (there are a lot of colors in this afghan), the most important part of the afghan; the tear. It is Red Heart Ocean. (Yes, an ocean of tears). It is a variegated yarn and I chose a section where it becomes turquoise - ish. It really stands out and I think, as he is a Native American, the turquoise is very appropriate.
Whew! That's a lot of boring yarn talk. LOL!
Once again I'll remind you why you're reading this...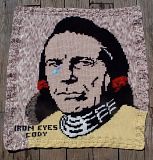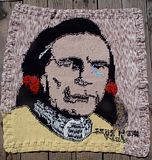 The front and then the back of the afghan. The afghan measures 32 inches x 32 inches. Wow, a perfect square. That never happens.
Here's a link to wikipedia where they have some info about
Iron Eyes Cody.
He's even got a star on the Hollywood Walk of Fame now too. At wikipedia it says
"He was born Espera De Corti, the son of Sicilian immigrants Francesca Salpietra and Antonio De Corti. He was not born a Native American, but he claimed to be part Cherokee and part Cree."
Isn't that funny? Well, at any rate, it's what his face has become to symbolize that is the important thing, right?
Happy Earth Day (April 22nd) Everyone!