Card Cheaters Afghan
Finally I finished this one!!!!
There were five graphs to work from and I kept running out of white yarn! LOL!!
(All images are clickable for enlargement.)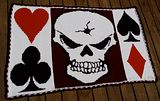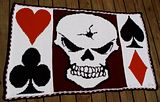 I had a hard time taking pictures too. The wind kept blowing one side or the other into curling up, and the sun kept teasing me popping in and out. Plus after I took all the photos the first time, I began to upload them to my computer and realized there was a huge smudge on the front lens making a blurry spot right in the middle. Grrrrrrr!!!!!!!!
(I looked just like the skull in the afghan, (minus the bullet-hole), when I knew I had to go back out and retake the photos).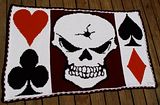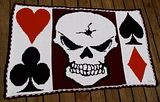 The maroon colored yarn surrounding the skull doesn't show up too well in the photos either.
I used the new yarn at Hobby Lobby called "I Love This Yarn".
It's very soft yet nice to work with. The black isn't as soft as the other colors though. I don't know why.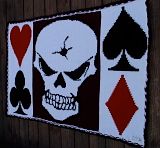 For the card suits, I used the four graphs found in this Bernat pattern booklet...
Poker Passion

It's a knitting pattern booklet, but the graphs can be used for tunisian, (or single stitch) crochet too.

For the skull graph, I got a picture from a site that sells window decals and I graphed it on knitpro's graph generator.
He looks fabulous!

I had to take the photos at an angle because the blanket is so wide. So the sides don't look squared but they are.
The afghan measures 36 inches by 61 inches.
I used a size J cabled hook.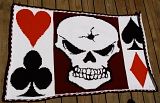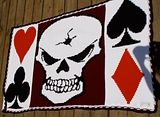 I finally got the sun to co operate and my stupid shadow in in the way. And there's the curl from the wind.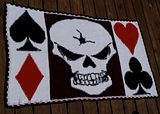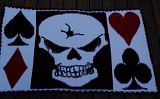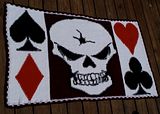 These are back side shots. Pesky sun.
I had a hard time picking out the name for this afghan. I wanted it to reflect the Wild West poker mentality of "card cheaters will be shot". I hope no one is offended in any way. I certainly don't condone shooting anyone. It's all just in fun.
On another note; in about a week, (when the new Potter book is released), I will be in a glorious reading frenzy and won't be posting for a bit. I know a lot of you will understand as I suspect you are Potterheads as well. Heehee! Can't wait!