Harry Potter Skull Potholder
Since the Happy Hooker Chain Gang is disbanding, I am copying and pasting my two projects from over there to over here.
This is the Skull Potholder from Happy Hooker.
I "Potterized" it. :o)
.......(It was my first post there).....
Hi guys!
Thanks for letting me join your group!!! I was told it would be ok, ONLY if I made a Potter Potholder skull.
So I worked this up yesterday.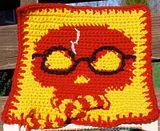 (clicky)
I used gold and crimson red Caron yarn to represent Gryffindor. I used the H hook, but it's still so huge!
After I finished, I surface crocheted his glasses on with black. I made him a scarf with the same gold and red yarn, attaching it on to his neck area there. For his scar, I used a metallic gold crochet thread and used four at once. It really sparkles in the sunlight. Hope you-all like it!
.......
I'm sorry to hear the Happy Hooker Chain Gang has folded. I know everybody there probably has a million other groups they all belong to and it's hard to visit all the sites regularly. Thank you, BellaKarma, for all the time and energy you put into making it a nice place to visit. I'm sorry I didn't peek in often enough. (Insert embarrassed emoticon here). You're so funny and witty. I know you will probably have formed five other groups after closing this one! :o) Best of luck!!!!