Gingerbread Peeps Pink Cottage Tote
I got this done just in time to fill with gifts for my folks and mail it off for Christmas...
(Click on the images for enlargements).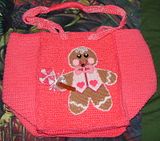 It's a pattern from Lily Sugar 'n Cream called
Cottage Tote
It's a giant tote!!! I mean
HUGE!!!!!!!
And very heavy since you are using two strands of cotton yarn throughout the pattern.
The two Gingerbread people I added after it was made. They are from a plastic canvas yarn kit from Mary Maxim I got a few years ago. They have jingle bells on their bows and plastic bag wrap around their lollypops which have glitter thrown inside as well. Sooooo cute!
Anyway, both sides of the tote look like this...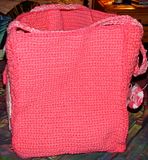 See how gimungo it is? I'm filling it with their favorite candys, warm snuggly throws, candles, soaps, etc.
Here's two more shots. You can see the inside where I whip-stitched the gingerbread man to the front and back. The handle I made longer than the one in the pattern photo, (even though the pattern itself calls for one this long).
The two handles are lashed together at the top.
I know my Mom will be able to use this tote to store a project or two she is working on. (She likes to have a different project going on in every room of the house. That way she can always just reach out and pick up any one of her on-going projects without having to get up and fetch it from somewhere.