Camouflage Man Afghan
This is an afghan I crocheted after buying a pair of vintage designer Jean Paul Gaultier jeans from etsy.
(All images are clickable for enlargement).
I saw the pair of jeans on etsy and I simply HAD to get them so I could photograph his face really good and make a graph from it to crochet.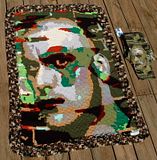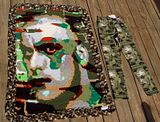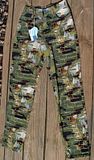 Here they are along-side each other. The jeans are small sized; like for a girl. I took a photo from the lower leg part and graphed that at microrevolt. I'm glad I went ahead and bought the jeans because the graph was really hard to distinguish colors from. It was nice to have the original pair in hand to look at if I wasn't sure.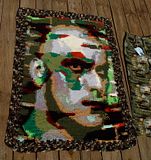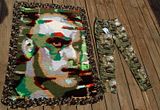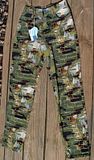 I flipped them over so you could see the back of the afghan and the front of the jeans too. The border of the afghan is made with five rows of 3 front post double crochet 3 back post double crochet; and then five rows doing the opposite with two different Bernat camouflage yarns. Renegade and Outback. Alternating between them after every third stitch. I tried to make it look like brick. It was actually the hardest part of this project, (believe-it-or-not), and I'm not sure if it was really worth it. LOL!! It would have probably been fine just making a black border. LOL!!
I really really enjoyed making this one. My husband thinks the guy looks crazy or deranged or something. I don't know. I think he's scared.
Now I have to figure out what to do with this pair of jeans. I could always make a jean purse. But they were pricey and they are brand new and I don't know if I could cut them up.
Anyway, hope you liked the afghan.