Dumbledore Scarf with Rainbow
In honor of J.K.R.'s "outing" of our Professor Dumbledore, I wanted to make something nice.
I had a very small graph of a wizard so I decided to make a scarf. (Click on all the images for enlargement).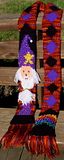 It is all done in tunisian crochet stitch with my size J cabled hook.
I began by stitching the wizard first. Then I decided to do a diamond pattern along the body of the scarf. I chose purple and black diamonds to match the purple hat/inner robes he's wearing and the black background behind him. The multi-colored yarn is Red Heart's Essentials yarn called Harvest. It has such beautiful colors. Orange, purples, yellow-orange and red-orange. Kind of Gryffindor-ish.
Once I finished with that I decided to add a small rainbow to the other end.
Then, I embellished the whole thing with sequins, and added more hair by "latch-hooking" yarn through the stitches with my crochet hook. I had a lot of left-over sequins from two seasonal banner kits I had made in which you had to add the sequins to - so I went a little crazy.
You thread a needle then go up from the back, add the sequin, add a clear bead, then go down the same hole in the sequin. This holds the sequin on. Then you just do it a million more times. LOL!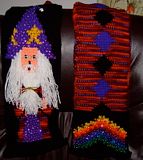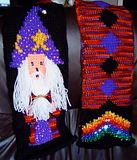 These two shots show what it looked like after I did the embellishments but before I joined the side ends together at the back. It was important to do this so the ugly back doesn't show at all. Plus it's nice and double-thick and warm. So it's actually like a long tube. Then I added some fringe to the ends with tassles.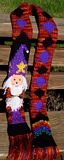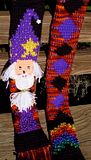 I took it outside today to get some shots in the sun. It really doesn't show off the sparkliness of the sequins. Oh, I forget, I also had added a plastic star button for the end tip of his hat and stitched on a pair of half-moon glasses with a metallic thread.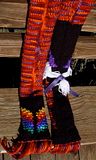 I flipped it over so you can see the joining seam.I single crocheted around the whole thing first so that the joining would be nice and even. It worked great. I tied the hair at the back with a purple ribbon. His body doesn't actually go completely around. Oh well.
I know some of you will ask, "What does it look like on a person?", so I grabbed my mother-in-law outside and took a couple shots. She absolutely didn't want her face in the shots. (She's the same person I got to hold up my first Snape afghan. Hee hee. She must really think I'm nuts).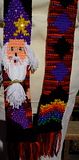 I really wanted to find a phoenix pin or button or something like that to put in the small space ubove the rainbow in the black area; but I couldn't find anything.
Have a safe and Happy Halloween everyone!