"Enid Collins - Sophistikit" backpack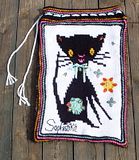 (Click on the photos to enlarge them).
I love Enid Collins' work. She was a designer/creator of beautiful handbags back in the '60s and '70s.
This link
has a nice mini-bio of her and a few of her cat purses are pictured. But she didn't just do cat designs. She has sooooo many different purses you could spend a year on e-bay collecting all the different photos of purses out there that she had designed.
I decided to attempt a recreation of a cat on her "Sophistikits" wooden box purse.
I began by getting a photo of a "Sophitikit" purse from e-bay.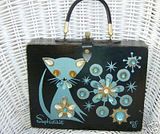 This one sold for lots of money. I love the turquoise and black colors and the shape of the cat.
I was also lucky enough to find a prototype of the cats someone was selling on e-bay. I saved that photo as well here...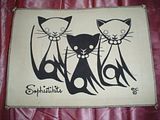 I took this photo to the Microrevolt
Knitpro
and uploaded it making a graph that I could use to crochet. (I only used the middle black cat for my project).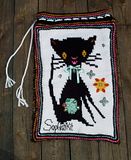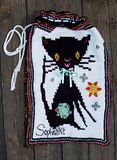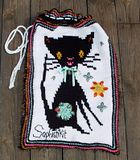 Once I had the graph I crocheted it with the size J cabled hook and Red Heart yarn. I wanted to use those nice 60s and 70s colors she used so I got aqua, pink, and gold along with the black and white.
After the cat was done I really went to town embellishing it.
Enid used multi-faceted plastic gems. I found some similar ones at Hobby Lobby. They were actually patches so I cut them up and made them into flowers and some small bugs. The center of my flowers have metal "coins" which were from Habitat For Humanity mailings. (I never throw anything away). They are really neat. One side says Habitat for Humanity. The other says Bless this House. (Enid used fake coins on some of her purses too.)
I used a yarn needle and black yarn to "write" Sophitikit on there.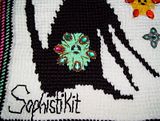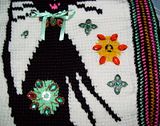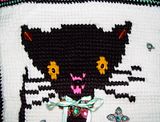 I used stuffed animal eyes and nose which you can just buy really cheap at any craft store. They have a backing which keeps them stuck on. I snipped the post down a bit because I didn't want it to poke through to the other side of the backpack.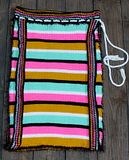 I went around the edge a few times in single srochet alternating black with the three colors.
Then I began from the bottom of the piece and crocheted stripes up the other side to create the back. Horizontal stripes are super-easy in afghan stitch.
Once I made enough to meet up with the top of the cat side, I ended the stitching and sewed the sides together. Then I made two straps and attached them to the back. The top has a drawstring rope through it for closure. (Double crochet, skip a space, double crochet). I also added a bit of black Fun Fur too. I may add wooden beads at the end of the rope like I did with the Beatnik Cats bag, but I'd have to go get more as I am out of that.
My favorite Enid Collins bags are her Zodiac Bags. They are so awesome that I have created a link which contains photos I've been collecting of these Zodiac bags
HERE
Just click on any of those zodiac months and you can see the photos of Enid Collins purses from that zodiac sign.
I wish there was more written about Enid Collins. She must have been an very interesting and creative person.
Her work is truly American Folk Art at it's finest.