Tapestry Crochet Totes
The blazing heat of summer is upon us.
What better time to work on smaller projects?
Ones that won't smother you while you are still creating them? LOL!
Many of you are familiar with Carol Ventura's fabulous technique of tapestry crocheting.
If not, when you have
lots of time
, slip on over to her site where she has wonderful tutorials and free patterns to get you going on this super-fun and addicting type of stitch.
Tapestry Crochet
Over there you will find the free pattern for the first of my totes. The Kitty Bag pattern. (please click on the photo to enlarge them).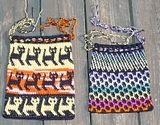 I'm calling mine Cat's Halloween because I used Halloween colors.It's on the left in this picture.
I used Omega brand Sinfonia yarn/thread. (I'm not sure if it's a "yarn" yet it's thicker than thread).
I'm a big fan of Sinfonia. I love it!!
I used a size F hook.
I made up a drawstring closure instread of her wrist strap.
One color pulls to one side, the other color pulls the other side closing it in the middle.
After I made the cat bag, I made up another pattern using a honeycomb peyote bead pattern from here.
Aunt Molly's Bead Patterns
It's the pink and black pattern sort of in the middle of the page. (As I was working on the cat bag I realized you could use any peyote bead pattern just by turning it on it's side.)
The top part of the back is simply alternately switching black with whatever color I was using in that row.
It's a really pretty effect. I really like this bag.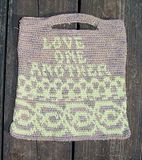 Then I took a peyote bead alphabet and came up with this Love One Another tote.
This time I used DMC's Senso thread (size 3), in a sort odf neon green and a "rainbow" beige. It doesn't show up so well in the full sunlight. It's much easier to see indoors.
The middle part was just me goofing around with the technique. The bottom part is from an old celtic design and boy was this hard! I began at the bottom so I did this pattern first and there was no way I was going to repeat it through to the top. Aaaaa!!!! LOL!!!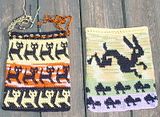 I decided I like the Sinfonia yarn better so I went back to using it on this next bag I'm calling Hare's Nightmare.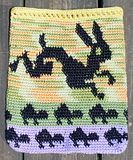 Hare's Nightmare is from two different patterns.
First I found a turtle pattern from About.com
Turtle Safety Pin pattern
It's a pattern to make a pin from safety pins and beads. I left off the tail because it looked funny when crocheting it.

The wonderful rabbit pattern I found in someone's blog who got it from Wiseneedle knit pattern site.
I'm posting the pattern here. It has an explaination of the origins of the rabbit and also some rules about using the pattern.
So please read it carefully!











Anyway, it was such an awesome graph and it really inspired me. I need to make the drawstrings for this bag. So, at least you can see what it looks like before I do that.

Finally, if you're not bored to tears yet, I have the last tote. It's a wrap-around design beginning on one side and ending on the other.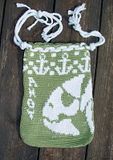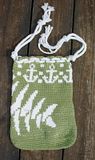 I'm calling mine Fishbone. But it's from a pattern called Jollyfish, (get it? instead of jolly roger?), from a site called knittingjuju. Someone named Julie designed it.

It's also at Craftzine too. Here's their link...Jollyfish What a great-looking graph!!!! I couldn't wait to get started!!!!

The anchors are a pattern I found at CrochetMe. It was for a hot water bottle cover.
Hot Water Bottle by Chloe Nightingale
I used a green Sinfonia and a Aunt Lydia's white cotton thread. The closure at the top is some rope, I thought it would give the purse a nice nautical touch. I used the peyote bead alphabet to spell out AHOY. (It was going to be Yo Ho Ho but I thought that might be misinterpreted. LOL!

So, now I'm totally hooked on this tapestry crochet thing. What am I going to do with all these bags?? My kids think I'm nuts.
Ah well. Enjoy your summer!