Peace Work Needlepoint Pillow
About a month ago I bought a needlepoint kit from ebay which was so way retro cool I knew I had to make it.
The kit was called "Peace Work" designed by Judith Gross and it was dated 1971.
Here's a photo of the kit.
So, I finally finished it and got a pillow form and used a really thick dark green felt for the back and made a spiffy pillow.
I did change the design somewhat. I really love it!!! (Please click on the photo to enlarge it).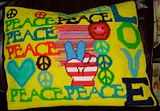 I used the same peace sign graph that I did for my striped peace laundry duffle bag.
The smiley is supposed to be like a sun with it's rays shining down.